His Chevy Truck
June 2, 2010
It all started when she was in sixth grade. She met a boy that was three years older than her. He was in high school, but he still noticed her. She went to a private school and he went to a public. Besides the age difference, odds were against them. She was the tall, skinny, blonde-Barbie type. He was the bad, get-all-the-girls type. She was popular, but not stuck up. He noticed her. They would see each other in the weirdest places. She would go to the local hair salon and he would be in there. That happened twice during her sixth grade year. She was on pep-squad and he would show up at the Junior High games. She would see him through the fence talking to other girls. He wouldn't ever talk to a girl like her, so she thought. She would see him at the local ballpark everyday for the months of April and May.
Seventh grade rolled around slowly. She went a little over two months without seeing him. She was now twelve, her body started to fill out. Would he notice her now? She was a J.V. cheerleader now. Like before she would see him at the games. Did she notice him? Yes, she did. She saw him talking to all of the other girls, putting his arm around them. Her seventh grade year she started dating. She never forgot about him though. She always wondered what he was doing. Summer came around and once again it had nothing to do with him. She broke up with her boyfriend. He got a girlfriend.
The next year he would bring his girlfriend to the games. Show her off to all of his friends. Why couldn't she be her? She was blonde..was it because she was three years too young? He ran into her with the occasional "hello" and "how are you". That was more than she was used to. She knew he noticed her now. Was it her new body? The B-cups? The curves? What was it? He noticed when she changed her hair and when she did something new with her makeup. Her new best friend's mom was dating his dad. They came home to him in their living room playing Guitar Hero. He still had the same-old girlfriend. Now her best friend had a crush on him. What was she to do? Tell her best friend that she had liked him since sixth grade, I don't think so!
The summer before ninth grade she woke up to banging on the roof. Her mom came in her room to tell her to check out the guy on her roof. It was him! She was braless and with bed head and he saw her! Were they meant to be together? For the whole two weeks he was working on her roof he said a total of six words, "Can you get me some water?" She only ran into him once during this year.

Tenth and eleventh grade year there were only two occasional "hellos".

As the end of her junior year she has a random text. It's him. How did he get my number? She asked him and he said that he had it from when he was in ninth grade. He just never had texted her. She was amazed that he had her number from when she was in sixth grade. He stopped talking to her for two months? After those nine months were over he texted her? Where had he been? He went to basic training. A week later he told her how he had always noticed her at the games and he has always had a thing for her. He loved her. She loved him. Now they are together.

After one month together they were in the back of his Chevy truck. It finally happened.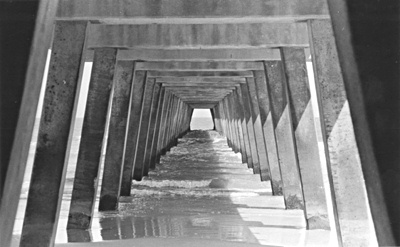 © Megan S., Marblehead, MA