Southwest Experience
June 1, 2010
7 years ago, my family went on our 1st southwest spring trip that we now go on every year. One of the places we went to this vacation was Canyon De Chey, which is like a mini grand canyon. Some different things you can see there are Indian cliff dwellings and petriglyphs. It is in northeastern Arizona, right next to four corners.

On turnouts along the canyon, the Navajo Indians sell necklaces, mats, and a variety of other handmade crafts. We stopped at each one to see the view of the canyon and to look at the Navajo crafts. My brother is a rockhound, which means he likes to collect rocks, and he was searching for petrified wood at these turnouts. At the last turnout, we found a Navajo Indian whose name was Ezra Yazzie. He had tons of petrified wood in his truck. He saw how interested my brother was, so he invited us to his house, where he had more petrified wood.

While we were there, we met his wife and 1 year old girl who had never seen a white person before. They lived in a house that would be a mere shack to any of us. Their floor was dirt, and they had no running water. They had to get their water from a well outside. There is no indoor plumbing, so they use an outhouse. There is also a woodburning stove to keep there house warm and warm their water. They are extremely poor, and they keep sheep to make a living. They raise the sheep for their wool, which is then made into rugs.

After seeing there house they invited us to go on a walk into a canyon which no white person has ever been before. Ezra's grandmother, who was 80 years old, was climbing up and down the canyon like a mountain goat way in front. After, Ezra's grandmother took us 2 see her house, which is no bigger than a room. It is called a Hogan. It is in a circular shape, and has no dividing walls in it, so it is just one big open space. The next day we came back to their house and they took us on another walk. This one took us to see another Hogan, which was up in the high county with Ezra's sheep. Then to a place where the whole ground was petrified wood, which is an extremely rare rock. We were the first white people to see this wonder too.

When it was time to leave, Ezra gave each of us a gift. He gave me a hand carved walking stick. Chris got a Navajo artifact, which was a hatchet passed down the generations. He gave my dad a silver and petrified wood bolo tie. And my mom got a hand-woven wedding basket.

It's amazing how poor they live, but how generous they were to us. In turn, we give clothing and gifts for their 2 daughters every Christmas, and money for silver for Ezra's wife, who makes jewelry to sell at the turnouts. We have remained friends with them for the past 7 years and visit them every spring break.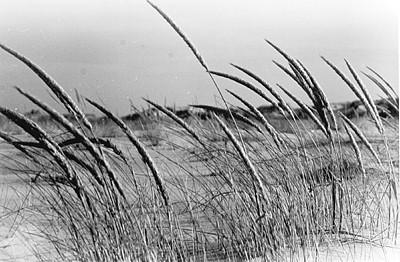 © Steve S., Marblehead, MA