5 Seconds
June 1, 2010
She would have been taller, hair still red, still curious, but she would have eventually stopped caressing my gravestone with flowers, my girlfriend. Instead of white flowers, I got a four leaf clover that day. She isn't taller, but her hair is red and she is even more curious, and all this because I didn't die that day, 18 years after I came to this planet.
My cell phone illegally in my left chest pocket, (illegal in the textbook of a private school) I put the slice of metal into the ignition of Ol' Gurde, that's what my sister and I used to call her, and took her for a spin. I had to get from school to home, no big deal my invincible mind thought.
It felt dangerous as usual, my own Nas-Car. I grip the fingers of my right on that circle of power, shift gears with the left, press down hard with my foot and begin my journey.
The next 8 miles flew fast, but not as fast as those 5 seconds will ever be. My mind had blocked out the precipitation that lay gently on the ground, eliminating all effects of brakes at that fateful speed, which Ol' Gurde rode at. Veering right the butt of my car takes a swing to my left, one second, thinking to myself, the lake is neigh I turn the wheel, two seconds, she swings her hips the other way, the lake is closer, three seconds, I grip with both hands turn that 360 degree wheel 360 degrees, four seconds, Ol' Gurde with new tires pulls half the amount of degrees as her wheel and plants herself first next to, then on top of the metal guarding me from the lake, five seconds.
I rock-style-head-banged right into the strip of car between the windows on the driver's side and my side jabbed into the lower side of the door with the window buttons. Didn't think it was that bad, I didn't know what was going on. "Ahahahahaha!" was the first thing to come from my mouth, in denial. I tried restarting the car, but Ol' Gurde seemed to have given up on what we had. I turn her off and step outside her to see the damage; I mean it couldn't be that bad…
It didn't occur to me at first after the neighbors had already run across the street to assist me and then I realized what had really happened. It might have been Ol' Gurde, an angel, that four leave clover; but there was no room for coincidence. It was too perfect, geometry at its best.
Evaluating the scene after my father and police arrive, we soon figure out that the approach, the angle, was precise to what I needed to avoid some serious trouble. As Ol' Gurde slammed into the beginning of the guard rail at a parallel, it then went on top of the guard rail saving me from taking a cold dip in the middle of March. If my angle was acute, they would have only needed half of a casket with the guard rail spearing through the car door, and obtuse would have resulted in swimming lessons inside a car.
Close to impalement, close to drowning, I don't know which is worse, I am glad I didn't have to do either. Whether or not it was that four leaf clover or the guardian angel watching over me, the angle was perfect, my life was spared, and her flowers will wait to lay my grave.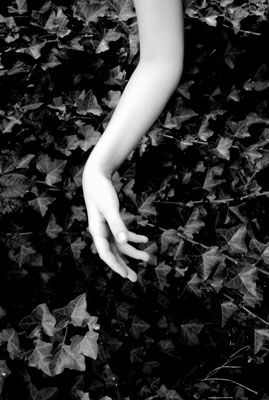 © Sarah M., Blairsville, PA