Sanctuary
May 21, 2010
It is a sanctuary, a place of safety, hospitable to anyone who enters it. In other words, it is my room. My room is one of the safest places on Earth for me, offering not only comfort, but style, entertainment, and memories. It speaks volumes about me and my individuality. One only has to walk in to it to know who I am. How does it do this though? How can it communicate to people my tastes in art, entertainment, style, and what I like to do?

On a hot summer afternoon, after cutting all that grass that beckons me weekly, after a nice cold shower, I flop down on my bed, feeling the softness and comfort it has to offer. This bed is just one of the many items that I appreciate in my room. I lie on it, taking in all the luxuries the four walls can hold in around me. There, almost in front of me, is my new birthday present, a flat screen TV. Below that is the new blu-ray player, waiting to receive an action packed movie. Above all this are a few weighty tomes, filled with countless dusty pages, all waiting to be read. This is a perfect description of me; the old and dusty clashing with the new and finely polished.

There, next to the door, is the small closet almost bursting with old t-shirts, ragged jeans, and pristine polos. On one of the closet shelves lay old toys, waiting to be picked up and enjoyed again. Next to the closet is one of my precious bookshelves. Everything is organized neatly within the confines of the shelves, all the books, action figures, movies, and magazines. This is one of the first things people see when they enter my space. Therefore, I want it to be a sort of glimpse into my likes and dislikes.

One of the more exciting features of my room are the posters hanging up on the white walls. What could possibly be exciting about posters? Every time I look up at them, they remind me of my favorite movies and favorite movie moments. How could someone possibly forget the time Harry defeated the Basilisk? Or when Frodo destroyed the Ring in Mt. Doom? My friends often chide me for having these posters up, but they know it is what describes me. In fact, I am sure they would actually miss them if I took the posters down. It seems that they have grown quite fond of them their selves.

In the corner, next to the window that lets the bright streaks of sun through, is the large chest of drawers, or as I like to call it, the desk. I cannot remember a time when I did not have the desk. It has been in my room nearly as long as I have. Each of its six drawers are filled with plenty of curious objects I have collected over the years including, but definitely not limited to, old coins, old school papers, a secret stash of cash that really is not that secret, tiny tubes of paint, a box of crayons, and an assortment of clothes not so neatly piled on one another. What really matters, though, is what is on top of the desk. Cds are strewn here and there; a small bust of Abe Lincoln watches over the state of things, and in the corner is the only source of light in my room, besides the window of course. It is a blue lamp that fills my room, almost magically, with its one shining light, an incandescent light bulb. The main feature on top of the desk is most likely the miniature version of Hogwarts that I received as a Christmas present one year.

In a space behind my bed is one other book shelf. It is completely weighted down with novels such as World Without End by Ken Follet, Dracula by Bram Stoker, and 1776 by Dave McCullough. On the top shelf stand my most favorite books in the world. It would be an honest thing to state that if I had not read the Harry Potter books by J.K. Rowling, I would not nearly be as good of a reader as I am today. All my friends know this only too well and even if a stranger walked into my room this very minute, they would be able to tell that I am proudly a Harry Potter dork.

There are plenty of tangible items in my room for someone to look at, but what about the memories that are so dear to me? As I look around my space, I remember when one of my friends spilled their Hawaiian Punch all over my favorite pillow. Or that time when my friend and I were changing the light bulb and we accidentally dropped the good one, causing it to shatter into dust. Needless to say, my mom was not too terribly happy. There are times when I will not remember what might have happened in a specific place; dropping a light bulb in my room is not one of them.

My room holds special significance for me, not just because it shelters me from the berating weather outside, or the fact that it gives me a place to put all my stuff, but because it defines me. Anyone could walk into my room and tell that I like to read, that I like new technology, and that I am not one of the most fashionable of all people, but they would know that I am unique because of the things they see. They would know that I like history because of the bust of our 16th President, plus the countless history books that I have at my disposal. Obviously, it would not take someone too long to realize that I am a huge Harry Potter nerd that might be a bit on the obsessive side. My room is not the only special one out there. Everyone's room tells people a little something about them, whether the fact that they love sports or would rather stay home watching the Travel Channel. Someone's room is a space designed specifically for that person. Every now and then, someone needs a sanctuary for a little bit.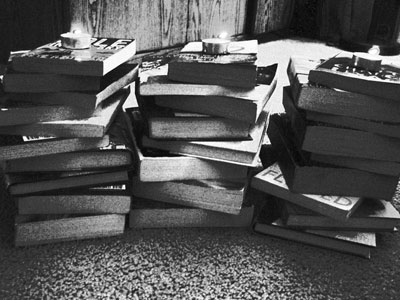 © Alexis R., Clarkdale, AZ