"Sighting"
May 21, 2010
It was only ten in the morning, but already my heels stung from a new blister; I could feel my shoe rubbing the skin off the bottom of my big toe. The make-shift backpack straps dug into my shoulder blades and the sun was beginning to shine directly into my eyes. My cabin mates were spread out in a line along the two track and my counselors were behind us, keeping an eye on the group. It was day four of my week and a half long kayak adventure in south eastern Alaska. I was already smelly and gross from spending more than ninety-six hours without a shower traveling over the salty ocean water. And now, we had decided to make a nine mile hike away from the coast to what my guide, Christa, assured us was a wonderful fresh-water hot spring. The only problem was, we didn't have back packs or hiking boots because we had left them at our base before leaving on our trip.

The hike was fairly easy-going with a slight incline for the first half, but had no major dips and valleys to trudge over. At least we were walking along a well-defined two track and not a rutted trail. Hiking in Tivas and Chacos definitely made up for the easy hike, though. We had converted our dry bags into back packs and we took enough cooking supplies for one night along with our tents, sleeping bags, and swim suits. The pots were tied to the outside of my bag and clanged together as we hiked along. After stopping for a quick lunch punctuated by the loud "SMACKS!" of our hands slapping away the flies, we continued on with four miles remaining. In order to keep our spirits up, we sang camp favorites while we walked such as "Wagon Wheel" and "Good Boy," and tried not to think of our aching feet.

An hour after lunch, we were walking past an open meadow when my friend, Jess began screaming and jumping up and down. "A bear!" she screamed. "There's a bear." Everyone went running up next to her and in shock, we watched a humongous grizzly bear take off through the meadow, aiming for the tree line three hundred yards away. It was like something out of National Geographic with its rippling muscles and furry coat the bear sent us all into a state of silence. After it faded from view, we simply stood and watch the now empty field. The bear seemed to have been burned on my retinas. I kept watching it run across the meadow and disappear into the spruce trees. The purple lilacs and waving grasses countered the feeling of absolute strength and power the bear had given us. We finally continued on, laughing and joking about possible scenarios that could have resulted from our "bear encounter." The last couple of miles passed in a whirlwind of fun as the sighting seemed to have rejuvenated our spirits and lent a new sense of adventure to our quest.

The hot springs were wonderfully warm and soothing to our aching feet. That night, before we went to bed in preparation for our return hike in the morning, all we could talk about was the bear. None of us had gotten a picture, but it didn't seem to matter that much. Each person had experienced the sighting in a different way and each one of us remembered the details of the meadow a little bit differently, but when we put all our memories together, the bear came into sharp focus in our minds. The next day, it was a tough hike back to where we had beached the kayaks, but still, the bear seemed to make our feet lighter and our strides longer. Our voices rang out against the surrounding forest and when we passed "our" meadow, everyone paused, hoping to catch a glimpse of the wondrous beast that had changed the entire adventure. The flat grasses, were empty, but once again my memory supplied the images necessary to lift my spirits.

After the kayak trip was finished, when we all got to make phone calls home to our folks in the lower forty-eight, my parents had tons of questions all about my trip, but all I could think of was the bear and how it changed my perceptions of strength and beauty. It was natural and peaceful and at home its own skin. The fact that such a small event could have such a large impact on me caused me to reexamine the little things I take for granted at home. If such a random occurrence could give me the endurance to push past my pain and tiredness, than what little things were I missing at home? The rest of my Alaska adventure was spent in tents and on hiking trails and each time I started feeling exhausted or overwhelmed, I thought of the bear and looked for something beautiful or strong around me in order to remind myself that life is really lived in the little joys that happen every day.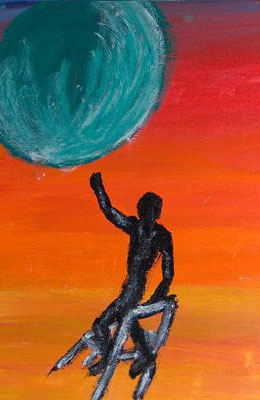 © Maegan F., Harrisburg, NC