Feed My Starving Children
May 4, 2010
How do you spend your weekends? Sleeping? Playing outside? Hanging with friends? Well I wish I could spend all my weekends like that. Instead I have community work once a month and it takes up only two hours of my Saturday. Two hours that I could have used to sleep in, enjoyed the nice day outside, or hang with my friends. My first time going to Northfield to a program called Feed My Starving Children changed my life.

I first arrived at the armory building thinking how dumb I feel for having to volunteer two hours of my day to spend in a building working. My sister was with me and a group of church members from the Lutheran Church. We first were pointed in a direction to go downstairs to watch a video and an introduction to the program. They showed us a video of children that are starving in other countries. After seeing the eyes and bodies of children that haven't eaten for days, weeks and possibly months was terrifying. We were told that some children were so hungry that they would eat the mud they walk in. I couldn't ever imagine eating such a thing. I knew I was doing this for a good cause and so we continued.

We were brought upstairs and given jobs. Some would put the stickers on the packaging bags and other would be at stations scooping the food. The four ingredients in a bag are soy, rice, vegetables, and the vitamin and mineral vegetarian chicken flavoring mix. This all contained only twenty different vitamins, but contained lots of nutrients for the starving children. I found out that a single bag of food we send feeds six children and It only costs them one dollar and fifteen cents to send it. A little bag of food goes a long way.

After two hours of packaging, scooping and putting stickers on bags we find out that we had packed two thousand boxes which contained eighteen bags of food. We were so happy just to know we packed that much and to know that we helped feed over one thousand children for a whole week. Just knowing that they can grow and get the nutrients and vitamins they need instead of eating dirt.

It feels good to know that I spent two hours to help children that live on dirt and water for a week or more. The feeling that says you saved more children then I can even think of. The saying for Feed My Starving Children is "Blessed are those who are generous, because they feed the poor" - Proverbs 22:9. I'm glad I learned how to be generous and be grateful for what I have in life that some do not ever get to look at. I helped change the world in two hours, how much can you help to change even a little bit in this world to make it safer and more healthier for children everywhere. Feed My starving Children is a great program and they ship food to over twenty countries each month. Help change the world for the better.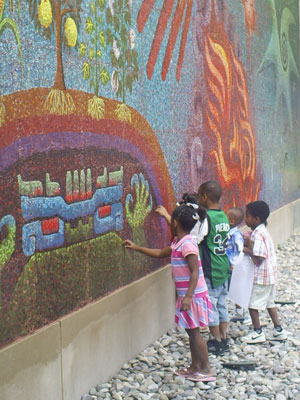 © Evelyn N., Hurst, TX