Don't Stop the Music
May 9, 2010
It confused me at first, to see all of my friends excelling in lacrosse, basketball, even football. Why did they have such talent outdoors while I was trapped in what felt like a jail with a strange man and slim, jet-black, bell-bottomed instrument? I don't know how or why I started. Whenever I asked, my mom would always say, "Because I said so," or, "It'll help you in the long run." Save the long run for track: I'll chronicle this whole music thing.

It all began when I was taught how to play the violin in Miss "Creepy" Kronawitz's basement. I was just three years old; she was probably nearing one hundred. As I walked in the door, smells of cat litter and dog food immediately pelted onto my new Gap t-shirt and left me gasping for one last breath of fresh air before it was time to go down to the dungeon. I learned basics the hard way: feet were glued in perfect playing position to the floor, chin up, shoulders back, elbow high. If these positions were not up to standards, Miss K would not have trouble yelling about them. Suzuki brand music books ruled my life like monarchs ruled subjects.

These lessons ceased when we moved to the wonderful and superior Syosset. I picked up the clarinet in 4th grade, when band was cooler than orchestra, and began to enjoy it much more than the violin. That same week, my mom had already scheduled a man to come and teach me clarinet every Friday afternoon from 3-4. These became the lessons that slaughtered my oh-so-important elementary social life: no taking friends' buses home, no eating fun afternoon snacks consisting of the highest sugar content, and of course, the beloved colored goldfish. I moaned and groaned until I realized that there was no changing this horrible, infuriating setback.

Months went by and I started to get used to Steve. He was a rather happy man, always opera-singing his greeting instead of strolling in to the house normally. I excelled continuously in multiple books, none of them Suzuki. One day, he told me I was ready to participate in NYSSMA (The overbearing capital letters that don't even form a real word confused me at first, too. New York State Music Association). I was assigned a composition to learn over a few torturous months and then judged on it in May. Over the years, I have noticed some habits of the NYSSMA judges: they barely smile, they wear glasses, and their penmanship is horrifically illegible, worse than one's basic chicken scratch. Half the time I didn't know if I failed or passed at first without asking my band teacher for translation. I've also grown to learn their ways; They notice the people that are dressed well, smile, and of course, stand out as a musician. I had the former two down to a science. But the last, not so much.

Finding the perfect reed became as desired as getting a 100% on a math test. Pleasing Steve didn't get any easier, either. I could practice as long and as hard as I wanted, but finding that tiny, slender, flawless-music-creating stick of wood determined whether I got an accomplished grade of 93 or an All-County worthy, talk of the town, grade of 98. Once I found that reed, I played until my chops gave out after every note I blew. I practiced the difficult fast parts in the composition the most because although I couldn't master them completely, they sounded better just because of that reed. Ever since I have realized that reed quality was equivalent to mastery, the "Tone Quality" section on the NYSSMA scoring sheet has never been more challenging to achieve that 5 out of 5.
Any curious minds out there should be happy to know I did make it into All-County. One year. But something else I obtained made me happier and more developed as a musician: I acquired a small, smooth bump in the middle of my right thumb. This thumb holds up the clarinet with help from a beige, plastic attachment on the lower part of the clarinet. More importantly, it reminds me of the infinite sum of energy I put into practicing during those few months every year.
Just as a football player would be covered in dirt after a game-winning catch on the field, I have that scar to help me remember the musical field I have thrived in over the years. Although I've only made it once to "the promise land" of music, I have all of my achievements behind me to show how accomplished one can be when one puts their aspirations into reality.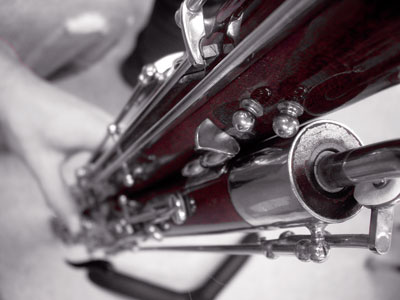 © Sean C., Princeton, IL