Playing with Fire
April 27, 2010
As I stepped outside I was greeted by the presence of the scorching sun. I glanced to my right and saw that the fire pit for a bonfire was sitting out. "Are we having a fire today?" I asked my dad. He just nodded his head and kept picking up firewood. I let out a large sigh and began to gather some firewood myself. I knew that today was not going to be an ordinary day.

After a hour of picking up sticks the sun began to set behind the trees and soon it started to get cold. My dad thought it was an excellent time to start the fire. My brothers, my mom and dad all gathered around the fire and I popped up some popcorn and walked over to the fire where the rest of my family sat. I took a large stretch and sat down in the chair beside my oldest brother. The fire was so warm it felt as if a blanket was wrapped around me and kept me protected from any harm. Just then I noticed a stick from the fire hit the ground. I knew I had to pick it up or it may set the entire lawn would burst into flames. Being the silly child that I am I picked up the stick without even putting on a glove to protect my hand. As I reached for the stick I could feel the embers hitting my hand. I thought this was a horrible idea I could feel my stomach turning telling me to stop. But I kept reaching for the stick it was almost as I was put into a trance that I couldn't get out of. Finally my hand grabbed the flaming stick. I quickly discarded the stick back into the fire pit. To my surprise when I looked at my hand it was in flames. I was in shock I had no idea what to do I started to panic. My flesh was slowly tearing away it was if a cheese grater was peeling off my skin. Luckily for me my youngest brother had a glass of water and he quickly through it on my hand.

I fell to ground still not understanding what just happened to me. My mom and dad ran to aid me. "Are you all right?" Asked my mom.

"Yes I am fine just a little burn I will be alright," I said. Of course my mom didn't believe me so she ran me inside and put some cream on my hand right away. The cream was so cold it felt like my hand was put in a tub of ice water. So after that day fire always seems a threat than a comforter and I don't think I'll be looking forward to another fire in the future.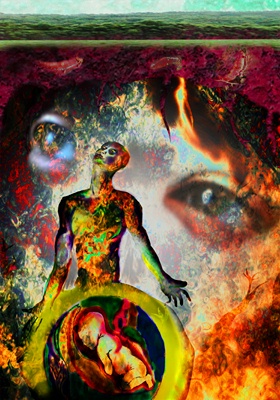 © Tom M., Philadelphia, PA