Broken Heart, Thankfully.
April 8, 2010
The June day we met is now known as the worst day of my life. June 12, 2009 was terrible. It was the first day I ever felt love, excitement, and the first time I ever had a real summer love. It's hard to believe it all began with on text message.
"Hey, I'm Hannah. I'm one of Emma's friends," I texted.
"Oh, hey. I'm Dustin." You replied. I smiled. The beginning of something that should have never started. I thought I was only making a new friend, when actually, I was making a mistake.
Hannah K. I ran the name through my head thousands of times. Did it sound meant to be? I knew it was cute, but I couldn't decide whether or not I wanted to take a chance on someone I'd barely known for one night.
Later that night, you dumped Allison. The girl you'd been with for almost a year. You told me you liked me more, but you feared that what you were doing would be dangerous towards her. You said the last time you two had broken up, she'd stopped eating for days. I think about you telling me that now, and I laugh. Who would stop eating over you, I think. But then I remember I was that girl at some point. I would have stopped eating over you. I loved you that much. But the love was never returned.
I vaguely remember the dates that seemed so special at one time. There was June 13, and from then to July 31, it's all a blur. What kind of guy asks a girl out on her birthday? You, obviously. But you didn't really want me. All you wanted was to know that you had me in your little game. Pushing me around like a cat toy when you wanted. You didn't care how much it hurt me, or how many times I'd cried over you.
The first day I cried over you was August 7. You broke up with me for making you jealous with a boy named Riley, then Patrick, and Tanner. I never cared about them though. I wished you would have known. Erin stayed by my side through every tear. There weren't many, but every single one was a measure of how much I thought I loved you at that time. Crying over you made me feel pathetic, but it made me know you were in my life. That you hadn't been a perfect dream I was waiting to wake up from.
You'd been the exact opposite. Over the summer I had my best friend Alice telling me, "His sweet nothings are exactly that; nothing." But I waved her off, telling her I knew you meant something. That you really loved me deep down. If only I'd known how wrong I really was.
Now it's 2010, and I realize that you've ruined every single happy memory I should have. Madison told me weeks ago, "I think you and Dustin are meant to be. Every time you get a boyfriend, Caleb's there. He's always the one that makes you change your mind about everything. You love him, Hannah. I know it." I wish she'd been wrong, because that moment, the moment I broke up with my current boyfriend, Thompson, I was sure I loved you.
But Madison saying we were meant to be? Those words just made me want you to ask me out even more. When you asked me out, I wanted to say no. But her words forced me to change my mind. Every, "I hope we last." And, "I love you so much." Made me want to like you even more. That was the last time you asked me out. April 3, 2010 was the last time I ever fell for your tricks. April 6, 2010 was the last time you ever broke my heart.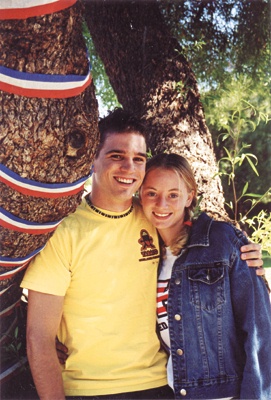 © Kelly D., Phoenix, AZ