I Die a Thousand Deaths Each Day
April 9, 2010
I remember the cold Buffalo air; the life of the city was stolen by the storm that swept through that April evening. The gloomy melancholic Saturday led to a depressing night. I sat there that night, alone—the cold barrel of my Smith and Wesson pressed against my forehead. My hand clinching the handle as I spun the barrel—I shut my eyes and took a deep breath as if it were my last and without contemplation, pulled the trigger.

My heart which was racing at the speed of light before, seized, my skin cold, my mind blank. Silence echoed throughout the house. The thunder consumed the sounds of the sirens. The rain poured down, washing away my sense of reality, cascading it down the street. Sure enough a car would come by and run it over—wounding it, but hindering it from falling into the abyss of the city storm drain. Nothing. No tire screech, no blood curdling scream, no excessive beeping. And sure enough with a simple fall, it was lost. The footsteps of Death broke the silence of the night as he scuffed his feet along the pavement. This feeling left me questioning reality. I didn't see any white light or my life flash before my eyes. I opened my eyes, my grip loosened and I checked the barrel, one round remained, I was still alive.

I took this as a sign, perhaps tonight wasn't my night to die—so I sparked a cigarette and listened through my barred window, for the life of the city to reassure me of my existence. Fog blackened the neon lights of the Indian bistro across the street. Mixed emotions ran through my head; I wanted that to be it, I wanted that to be the end. But hope remained. Maybe there was a reason. Maybe there is such thing as destiny. Maybe we do all have a purpose in life as well as a "time." This hope lingered as I lay my head to rest that night. My body numb and my brain dead, a tire screech on the wet pavement followed by a pair of gunshots sent a shiver down my spine resuscitating my restless heart lulling me to sleep with the reassurance that I was alive.

*
Sundays were my coffee day with Mike. The next morning, as I rolled out of bed, something didn't seem right; I brushed this awkward unfamiliar feeling off excusing it with the fact that it was my mother's birthday. She and I were never close and we rarely ever talked—anytime there was some kind of birthday or holiday, the day was blanketed with a black cloud of misery. I walked to Starbucks, got my "usual" and waited. Mike was never late; if anyone were to be late it would be me. After ten minutes I decided to call him—no answer. I waited for another ten minutes and decided to walk to his house; maybe I would catch him along the way.

All I could see were lights. Cop cars lined the streets, this was not an uncommon scene in Buffalo but as I neared closer, my heart sank. I ran as fast as I could, I probably would have broken an Olympic record if my time were recorded. They called it a crime scene. I tried to run up to see him, so he could tell me it was all a dream. The uniform pulled me back, his lips moving, but his words meant nothing. I will never forget the smell of the grass as I collapsed to the ground—the cold wind which whistled through my hair. Time froze my tears as they flooded my face. The world spinning around me—I didn't know what was going on—my mind blank, I felt numb—I didn't know how to feel.

For the longest time, I blamed myself. I should have seen it coming; I should have seen him suffering. We lived the same life, we felt the same pain: if I was suffering so was he. Something should have clicked that night, I could have prevented it. I carry this weight on my shoulders every day I live, and I will for the rest of my life, but I cannot go back in time and change that night. I can't give him his life back—God only knows how much I wish it were me that night.

We were a lot alike; we were bullied at school and went home to violence. We had nothing other than each other. I lost a part of me that day, a part that I will never get back. I wake up every morning hoping that I will have that piece of me back, and then I touch reality and realize it is not there and will never be there. I have spent long, lonely days waiting for my phone to ring and hear his voice again and crying when it doesn't. I have spent many nights wishing that it were my gun that smoked clear and were me that gave him reason to live. I would give the world to have one more day with him.

**
I had thought about what my funeral would look like many times; no one placing roses on my casket, before laying me to rest. No one coming by to sweep the dirt off of my headstone. Often imagining the joy my death would have brought my family, having had been relieved of their burden.

"Jokingly", Mike and I discussed these scenarios over and over again while drinking beers by the river. The tires that lined the river made perfect seats as we would watch the dismal water, polluted by the hate and bane of society rush by. The layers of garbage separated us from the dangerous water. One fall and we'd be caught in the undertow heading directly for Niagara Falls—a sure death. As we sat there flirting with death, we were at peace and safe to joke about it. We were kids; we never saw the big picture. We never imagined the pain it would have caused and the burden it would have left.

I have picked up that gun a few times since that day with the same intentions, but never loaded it for the fear of the destruction it would cause to those around me. I am someone who wants world peace, I want to end suffering in the world, and I would never put suffering onto someone else. I have seen the destruction of this act; every day I feel the pain it causes and the suffering it evokes. It may end one from suffering, but that suffering eternally remains in the hearts of those around them.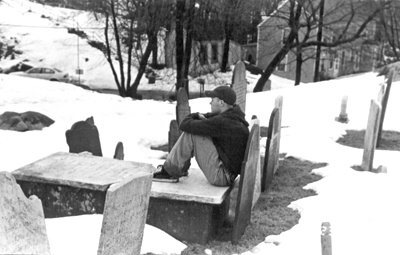 © Matt B., Marblehead, MA