[None]
April 6, 2010
No one thinks their hero will abandon them. Meth will change that.

She'd been there from day one. But she was more than just there; she was the backbone to my sense of stability and security. She woke me up in the mornings, checked my homework, cooked my favorite food, and yelled when necessary. To say I may have been a little sheltered, and too reliant upon her would be an understatement. She was all I'd ever known.

The move tore everything apart. I was now in an unfamiliar place with an unfamiliar woman. She was not the strong independent female I'd learned so much from. Instead she became a distant memory. Gone for extended periods of time, evasive and vague, leaving her thirteen-year-old follower forgotten behind. She was there but so far gone I'd realized there was no getting her back.

Her door was always locked. There were eviction notices every other week. Strange people invaded my home and personal space. And I had nowhere to turn. No one to confide in, nowhere to go for a warm dinner, not even someone to hug when high school got the better of me.

She let me down; just gone without a word to the one person who depended on her and I had no choice but to accept that. An adolescent girl can't manage without some outlet, though, and that is how I discovered writing. I wrote to combat my feelings of abandonment. I wrote to explore the new independence I'd developed. To voice my opinion about the choices she made not only for herself but for me.

I found myself writing, too, about questions brewing in my mind. Why would she leave so suddenly? How could she leave her only daughter alone and lost without her mother? Was she safe? How am I supposed to live my life wondering where she is, what she's doing, if she's okay?

Eventually my writing became my life. Every second I had to spare was devoted to my notebook, and the more time that passed the more I began to move on and forgive her. She chose her drugs over her child. She didn't provide the life and surroundings appropriate for a young girl, barely entering her teens. She ignored me and hurt me and left me. But she is still my mom. And the choice that she made was the right one for her to get her life back. To get herself back. She began to see the damage she'd done, the mistakes she'll never be able to take back, and she came to the conclusion that the only way to get better was to leave. Remove herself from the environment she'd built for herself, disconnect with old "friends" and start fresh somewhere new. She admitted she had a problem and did what she needed to do to fix that problem. I respect her for that.

Sometimes the toughest moments are the most rewarding. When she exited my life I grew up real fast. I taught myself how to take care of me, my problems, how to support myself and be my own shoulder to cry on. I quickly became older than I was, and in that process I discovered what I love. I found my passion, and have since found means of accomplishing my goals despite the missing link in my life.

She may have walked out on me, but she taught me the lessons hardest to learn. My eyes are now open to the tragedy the world offers as well as the amazing hope it promises.

No one thinks they can be their own hero. Meth will change that.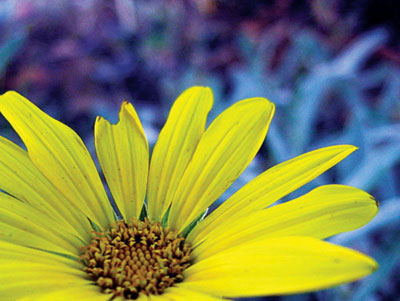 © Roopa S., San Jose, CA