Scared to be Fearless
April 5, 2010
After the beak up, everything changed. I started to look in a different way. I started to look up. I saw God in a different way, a way that I wanted to be seen. I saw God as my Savior. With this my friends changed. I met people at my church that really changed my life. I never knew that I would meet anyone like this.

Then there was him. For this sake he will not be named. From the moment I met him, there was something different about him that I could not get out of my head. He was cool, fun, and easy to talk to and there was the connection. The connection that he knew what I was talking about and a way to comfort me when I need this. I started to talk to him more and more not thinking about anything. All I knew was I wanted to get to know him better.

Then this night happened we watched Passion of the Christ and the pastor told me before it started to sit by someone you love. Some how I ended up sitting by him. Durning the movie I started to cry he was right there and put his arm around me and it comforted me in a way I never knew. Now I start to think about him in a different way.

I am so scared to fall for him. Thinking I cannot like him, I cannot be with him. Scared of giving my heart to someone else. Scared to go though pain. I am so scared to let someone in that it seems that I have pushed someone away. I don't know what to do in our situation because I don't even know if I like him or if he likes me.

Being scared to do something is my thing that happened after the breakup. It is not a good thing. I want to be fearless and move on from my point after getting over someone but I just cant. I cannot seem to move to see where God wants to take me in any situation mostly in this one.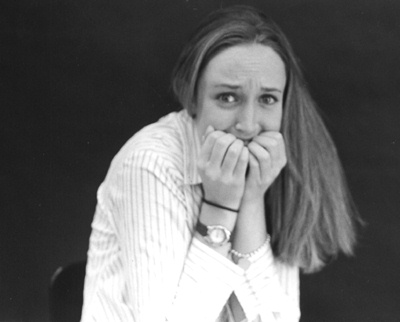 © Kathryn P., Marblehead, MA