still my bestfriend? will things ever be the same??
March 30, 2010
we were always together out folks are good friends they are some how my cousin I found out later
they were ways together before there was me ever in the picture, they are niece and aunt but closely age ranged
we met one winter day when I was 7 she was 6 the other one 5
our parents were hanging out n told us to play together since I was new n lived rite town the street frm them at the time…
after tht we became the best of friend…4 yrs past n things going so smooth
it was the month of May when my parents decided tht after the school year ends we will be moving out of town about 45 minutes drive a from where we lived at the time…
I was so sad when my parents tld me…I didn't knw wht to think to me a 45 minutes drive was so so far for me since I didn't know how to drive I was so worried tht I wouldn't be able to see my 2 best friends…I thought it was gona be the end of my friendship I thought I wouldn't get to see them at all…finally the day tht I didn't want to come arrived…the school year come to an end…2 weeks after tht we started driving our household things out to our new house…the house was beautiful but I still didn't wana move…I already missed my best friends and it had only been a few days…about another 2 weeks of moving n we were finally done…during the summer we had came into town about 3 times a week some weeks mayb more…I didn't expect tht at all…i didn't think I would spend so much time wif my friends after moving…coming into town made me feel like I didn't move away at all…I got to see my friends all the time n I basically lived at my best friends house because she n the other one lived together…n when the school year was emerging I didn't want summer to end cuz now for sure I wouldn't get to see my best friends much when school started…n I was right…but while the school year started n went on we keep contact evn at a young age we were there for one another…like we were teenagers already…tht made my spirit feel so up lifted knowing my friend are still there for me…going to another school was a hard thing im a shy person so I never tlk to anyone if they dnt tlk to me first…being so shy I thought making new friends would be so hard…( going to a mostly white school im not racist…if it sound lik tht im sry…if u cant tell I aint white)...until this boy who was in 2 of my classes came to me n introduced himself to me…he was mt first friend at the new school…frm then on he introduced me to all his friends…n im not surprised but he had no white friends..because later on in the year I found out tht school was very racist against colors so all us colored kids stuck together…
Once in a while on a weekend I would go wif my parents whenever I can to town…my best friend we tlking abut there boyfriends n there new friends n being not the most prettiest girl I didn't have a man to tlk abut so all I tlked about were my new friends too…I lived out there for about 5 years…my friend were great people we also became the best of friend especially wif the first friend I made 7th grade year…when we introduced one another we introduced as brother n sister we were tht close…about 4 months into junior year of high school my parents decided to move back into town…bt now I didn't wana leave…but we moved bak into town anyways…n me n my 2 best friend in town we still evry close n they were so excited tht I was moving back n we would have time to hang out like we used to back when we were still in elementary…she was right there was nothing to do but hang out at their house it was fun n great for bout a little ovr a year when senior year was about ovr for me(being the oldest out of us 3 girls) things started changing…I found someone tht changed my life…n she found someone tht changed her life she thought, but tht didn't work out…and the other one found someone who did it for now…then suddenly one day I went to hang out…which I haven't done tht in a while…I stayed a little late so the other ones dad tld us not to wlk home it was too late…which I lived abut 3 blocks away so I was confused y not…I was gona sleep ovr like the other ones dad say but I was worried tht my fiancé was gona get upset so I was thinking about going home or not plus my fone was gona die on me…so I was debating whether or not I should sleep or go thinking the sooner I make up my mind the sooner I reach home if I decided to go…I was gona sleep then the one I favored more said "If you guys don't wana sleep here don't" I was thinking she was joking because I never thought my bestest friend in this whole world would ever say anything like tht to me…then I chuckled a little n said " don't say tht to me u know I don't mind sleeping here its jus my fiancé is at home wanting me to come home, n plus my fone is dying no one will b able to reach me in case of an emergency"…then she said "im serious don't wana sleep here jus don't I don't want ya to be forced sleeping here…" then I got made n walked out…tht day I was so upset I cried n cried crying to tlk to her…she told me I wasn't the same n tht my fiancé was changing me into someone she didn't realize…tht hurt me more tht anything tht she was hurting…I wouldn't do anything because she wouldn't pik up her fone when I called either…so all I could say was "If you wana tlk ima be rite here..i aint going anywhere…u are my best friend n u will always be no matter wht happens…I dnt wana end our 11 yr friendship like this we have to work things out...the next day I called her n we tlked things thru so we trying to patch things up….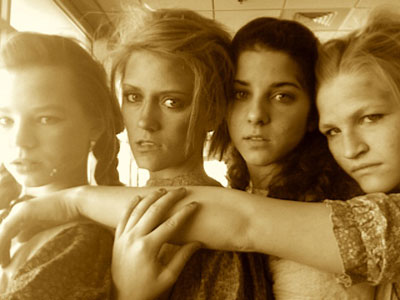 © Sarah Q., Leawood, KS