Kid, You'll Move Mountains
March 29, 2010
The two most important sources of inspiration in my life are people and musical theatre. My parents, grandparents and teachers have always taught me valuable lessons and have always impacted my life in meaningful ways. Performing in over 50 shows over the past 17 years of my life has shaped me as a person; without musical theatre, I would not be who I am today. It motivates me to pursue theatre as a career because I get the opportunity to choreograph middle school shows and expose kids to the wonderful world of the arts.

I choreographed my first children's show, Honk! in the fall of my freshman year. Three of my friends and I decided to take on the daunting task of directing and choreographing our very own show, because we had enjoyed performing so much as kids. We had done at least one aspect of it – singing, dancing or acting since practically birth, and we wanted to work together to create a musical for passionate kids all over the community.

Auditions and callbacks went swimmingly, but after the show was cast, we got a call from a parent that had heard about the show and wanted her daughter to take part in it. She said that Honk! would be her daughter's first show and that she wasn't expecting anything except chorus or ensemble. She expressed how much her daughter would love to be a part of the production at all, if she could. This is when I met sixth-grader Sarah Levin.*

At the show's first rehearsal, we met all of the aspiring, young thespians. When we went around to introduce ourselves, I noticed an awkward, gawky little girl of about 4'11" and 60 pounds. She looked down at her black converse as she spoke, and her introduction was barely audible, but I managed to hear a "Sarah" come out of her mouth as her name. Honk! was her first show ever. We weren't sure where to put her or what to do with her in the ensemble. It was clear that she had no training whatsoever, and didn't have any confidence in herself. She never said anything, so it was very hard to communicate with her. In short, she was a lifeless noodle.

We all had a blast coming to rehearsal, playing improvisational games, dancing, and singing with the kids. I was learning about the direction process, aspects of tech theatre that I didn't know about before, and most importantly, I was discovering things about myself. I learned that I really love working with children and making people happy. I learned that I have great management skills, and I love to be in charge. I also learned that I am sometimes impatient. Meanwhile, Sarah was learning about herself too. Since everyone in Honk! had his or her "moment to shine" on stage, we gave Sarah the part of Snowy, a non-speaking part with a few gestures during a song. She was thrilled with her "claim-to-fame" part, and did a wonderful job with what we gave her.

That spring, I assistant-choreographed Lil' Abner at M. Middle School, where she happened to be a student. Sarah landed a small role in the vocal ensemble, and began to explore singing and dancing more so than she thought she was capable of doing.

The next year, I was ready and eager to work on the middle school's next show, Seussical the Musical. When Sarah walked in the door to audition, I asked myself, who was this grown, mature woman that we had on our hands? She strutted in with such grace and confidence, and the creative team and I just stared at her. Clearly, this was more than the overcoming of an awkward pre-teen stage; this was the result of something in this girl's life that gave her confidence as an individual and as a performer. Her stellar rendition of "Ain't Misbehavin", complete with riffs and vibrato in her 7th grade audition landed her the role of the sassy diva "Sour Kangaroo," a part with a range beyond the limits of Aretha Franklin. After being in the background in the other two shows she had performed in, this was a huge jump for her, but it was clear that she was not a girl to be left in the background anymore.

I have choreographed her in three shows now: Honk, Lil' Abner, Seussical, and we are currently rehearsing for Kiss Me Kate, in which she is playing the title role. This is only the beginning of this radiant lump of talent. The presence she brings to the table is astonishing and inspirational. The most incredible thing about Sarah is the fact that she just started taking vocal lessons. With more time and practice, someone with as much raw talent as Sarah could go so far in the performing arts.

Seeing young thespians practice to perfection and watching them nail it on opening night is one marvelous spectacle to witness, but it's girls like Sarah Levin that make me realize why I work with kids and why I love choreographing shows. Her progression from being essentially a "lifeless noodle" to a belting bombshell has changed the way that I look at musical theatre as a whole. I have realized that performing in shows has changed my life, and is changing children's lives every day. Performing in the ensembles of Honk and Lil Abner gave Sarah the self-confidence to see her true potential as a performer. Seeing her abilities in these areas on the stage gave her life meaning and will most definitely shape her future career. Knowing that I had an influence on this in her life has really moved me to continue working with kids.

From Snowy to Kate, this girl will move mountains. I am honored to have witnessed such a great example of how theatre changes people's lives. I hope that all kids will consider this memorable line from Seussical throughout their lives: "anything's possible!"

* The names and various show titles have been changed to protect the privacy of certain individuals.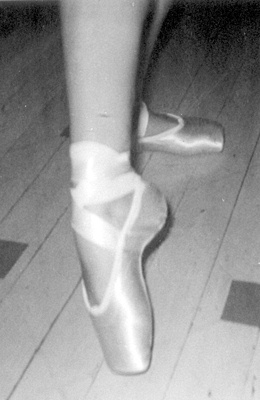 © Amelia B., Philadelphia,PA