Life as a mutt
March 25, 2010
I was the one that always got told I will never measure up to something. That I will always be a low life mutt. Even my father telling me that I'm not important. Then el barrio was bad it was a dump everywhere u turn someone is getting jumped or your are about to get jumped. Then Father he just left us all alone.
El barrio I was living there for a while for my life but when I was there it was hard being scared to walk out to your own porch being scared that a bullet will kill you in a drive-by. I went to jail for only a week but when I was there it was bad hugging my mother from a jail cell. My mom get fed up with it and she decided that we should move and that I should get an education for myself so we moved and now I'm trying to get an education and move on to college. At school everyone made fun of me for my grammar and my accent. No one wanted to play with me just because I was something different they never seen before.
My father left us all alone and scared. We didn't know what to do I was the one that had to be strong and say it will all be all right. When I ask him why he left he just told me that he wants' better for himself, that we are worth nothing and will only pull him down. He also said I will die at age 14 but here I am 15 and breathing. That just made me push harder and achieve my goal and be someone in life.
My mom also got tired of me to, I was just walking down the street trying to go to school and two cops came up to me searched me and asked me questions. After two days I went to the park to play soccer with the boys and I found out that my dad told the cops that I was a gang banger and went to his property. My mom kicked me out of the house because she believed the 5'0 and other people than her own son. After a few weeks she said sorry and that now she believes me. After my father tried to fight in court to keep us to make our life hell. My mom won us and immigration court as well Life is good for me my mom and my brothers and sisters but father is going to just going to keep on hurt my mom and that family.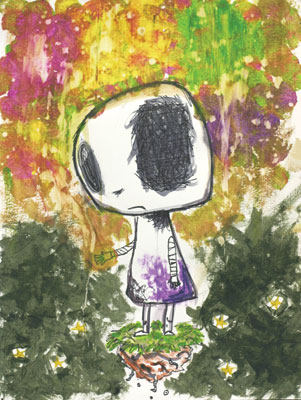 © Ashley W., Port Charlotte, FL