Insanity
March 21, 2010
My fingers slide the shiny red buttons into place, pin the name tag just under the golden arch, and secure the visor's worn Velcro, quick with practice. Creased black pants hang over slip resistant shoes; onto another endless shift.

The eight block venture is so familiar I could walk it with my eyes closed; two blocks down, half a block left, through the alley… but why deprive myself of the scenery? The local coffee shop radiating sweet caffeinated scents, the ever-busy Sheridan Boulevard full of commuters getting started on their days, and of course Sloan's lake. The lake makes the walk worth it—stifling summer afternoons with the sun beating on the merciless polyester are relieved with breezes off the water, frozen winter days blanketed in white misery are brightened by the sight of goose prints on the iced over mass. And just when I think I may give up all hope, succumb to the evil my very employer impresses upon the world; I'm comforted by the dedication of runners beating the already smooth path. There is still hope.

That hope evades me as I enter the restaurant. My nostrils are filled with stale fry vat vapors, mists of powder from the iced patties hitting the grill, and underneath it all burnt coffee remnants. My ears instantly seek out the incessant beeps radiating from every corner and all of a sudden I'm exhausted.

Fighting this battle takes a lot out of me. Every morning I wake to measuring cups, precise portions, low-calorie options that keep me beautiful then I come here; struggling to cover the disgust at others' choices. Make it large size, can I substitute a shake, extra fudge…. It is no wonder to me why each and every one of our customers is obese to the point of mortality—they display not an ounce of self control. God forbid they stop eating when full.

As I stand at the window, smiling into the microphone, taking orders, cash, and in return change; I compare myself to those I serve. Is it possible to add another double cheeseburger? Of course it's possible. You've already ordered more than a day's worth of calories, more than a week's worth of sodium, what harm would adding something else do? You disgust me.

My eyes then focus further out the window. A job as brainless as this takes little, if any, concentration and I'm free to let my mind wander on the beauty across the street—the lake. It is my savior in many ways. The sight of locals taking advantage of the welcoming place to exercise, the peaceful movement of the green-blue water, brand new trees striving to become strong and reliant along the perimeters—it inspires me. It reminds me that there are still people out there making positive choices. Taking the time to care about themselves and how they look. Image is not all that matters, of course, but at this point in my life it runs everything.

Sometimes I wonder if this job has made me cruel. I look down upon the overweight members of society with absolutely no thought as to how they might feel. It didn't take long for me to begin judging people by what they order, classifying them as heavy objects rather than human beings. Being surrounded by ignorance and self-indulgence took its toll on me. It changed the way I view people. It changed the way I view myself.

By no means will such judgmental habits be justified, but look at it from my point of view… Monday through Friday I am confronted with girls my age thin as twigs incessantly talking about how fat they are, every weekend I am greeted by women and men so overweight getting out of the car takes too much effort, I'm bound by walls that produce food for people who have no regard to their health, image, or life.

I say the lake is my savior, but in fact is part of what ruined me. Disgust at the size of our customers led quickly to disgust at my own size thus leading to an obsession with being healthy. The lake provided a place to harness that obsession and make it the center of my life. If I walk this lake three times, I'll have burned the calories I consumed today… By eating water-based foods I'll rid my body of toxins as well as consume fewer calories… I drove myself crazy.
I jumped on the opportunity to blame my job, to blame the people who eat there, but the truth is, I was the root of my problems.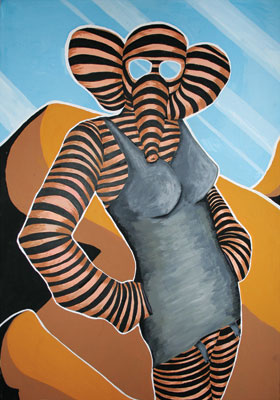 © Tiffany E., Auburn, AL