Family
March 8, 2010
My definition of family goes like this: the people who do, and always will, love you, no matter what.
For me, two groups fit that description.
The first are the people that have been given the title of family from birth. Mom, Dad, Brothers, Sisters, Grandma, Grandpa, all those folks. I love them all dearly and would cry for weeks if i ever lost them. Which unfortunatly has already happened.
But another group of people come to mind when i think of my family. Some people might call them friends, but they are so much more than that. Those ten plus girls you see me talking with, laughing with, crying with; Those are the girls who get me through the day. Those are the girls who i can tell anything to. The girls who know my deepest, darkest secrets. My biggest fears. My heart's desire.
When i refer to my group of friends i often use that powerful noun, family. And just like any other family we're all different but yet somehow all the same. We fight and lie and tease. There have been many putdowns and insults and namecalling in our past. We don't hold the best personal records and we've all made choices that we wished we hadn't. We all have regrets.
But we also have memories that will last a lifetime. I've laughed so hard that i've cried more times than i can count. Inside jokes and late nights talking until you just can't keep your eyes open are staples of our relationships. Even the dumb things we laugh at and quote the rest of the day puts a smile on my face because it's another thing i'll never forget. Even when im old and gray i'll still laugh when someone says "Spongeboob" or "You dropped your lettuce!" or the mention of my ninth grade science teacher falling in the garbage can.
But i'll remember the sad times too. All the times a boy broke our heart or a girl spread a rumor, we were there for eachother. I can recall all the times i've cried thinking about going away to college and not seeing my girls everyday. I can recall all the times i've cried because things werent the same, because they would never be the same.
But they were always there for me, and i know deep down inside, that they always will be. That no matter what, no matter how far away or how much they've changed or how many problems they have, my friends will be there for me.
Thats why i call them family, because i know that whatever happens in this crazy mixed up world, i will always have them, at least in my heart.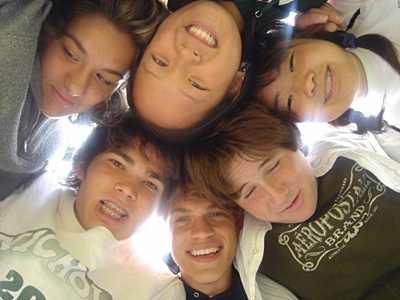 © Zhihan C., Hudson, OH