O'clock
March 1, 2010
Every one in this world,non-believers and believers, knows that friday 13 is not a lucky day. But a girl like me, that loves mysteries would never imagine it would cost that much.

Since I believe in Jesus, I wasn't really scared. And less when the morning sky shined like my own eyes. Waking up in a day like this, who would have a tear? For some reason I wanted to go to school. My smile was just like the sun of a July-25th afternoon.

I got to my classroom and everyone was talking about the date that I didn't realize. 9:00 O'clock in the morning it was, second period had begun. The teacher writes "Friday 13th. 2009" I satyed in shock. "Kids look! Your lucky day, hahahahahaha" I said to my friends, which joined on the laughter. But I didn't had enough. During the whole day I continued with the game of the "bad luck" day. My teacher said I should stop. So did I.

I arrived home. Excited. Everything on a back burner, I had my favorite food waiting for me on the table. A rejointing smile floated on my face. I ate and my worker and I started talking about boys.. LoL.

*Riiing*
I knew it was my mom. Everyday calling exact. I had arrived in an O'clock. 2 O'clock. Now mom was calling. A little bit late to be sincere. "Mom! Hi!" "Hi my daughter, how was your day?" "Great! Nothing could be better" "Luz, your grandmother's dead" and I listen to her half-crying. "What grandmother?" I ask, because normaly people have 2 grandmothers! "Lilita" I couldn't take it. I repeated 'No' for almost 100 times! And *tock* it was O'clock. 3 O'clock. My grandmother's passing time. 3. I hated the fact I was preparing myself to leave to my grandma's house just when the call came. Just seconds late. Now it is 4 O'clock and nothing could be up.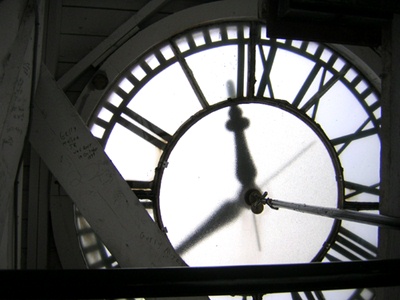 © Tatyana Z., Norwood, MA