Rejected Lesbian
February 27, 2010
Dad said he hated me. It made my heart break, but I knew why. It was because of her-- my girlfriend. A strong anti-gay advocate, my father was furious at me for something uncontrollable.
It took a long time for me to come to terms with myself, let alone have anyone else come to terms with who I am. It was summer, and I was on vacation in Florida. I met some people who were more adventurous than I, and a girl kissed me. Better than any kiss my boyfriend had given me, stronger than anything I had felt with a man. That was when I first knew for sure. But in reality, I had always been different. When I got invited to beauty pagents I'd laugh and toss it aside, not have the prospect light up in my blue eyes. Warriors and trucks-- "boy's toys"-- always appealed to me more as a young child. And as I got older, I always seemed to fit better with the guys, as if I was one of them. When they fell in love with me, which was unfortuantly often, I brushed it aside.
So somehow this makes me a bad daughter, this little hormonal glitch in my brain? Some of the other problems I have apparently also make me a bad daughter. My cutting. My dyscalcula. My natural rebelliousness. Things I can't control, things present in my every day life. Dad never really encouraged my pursuits in the arts, but after I told him that I am a lesbian he completely withdrew from my life.
And the truth is, it's very hard to live without a father's love. Oh, sure, he puts on a show of it when I have friends over. But the warmth, the comfort in his eyes are gone. And the only question burning in my mind is why?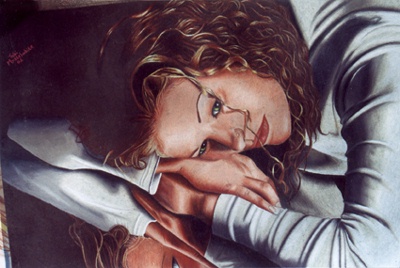 © Tabitha M., Kannapolis, NC