The Boy Who was my Enemy
March 6, 2010
I hated him from the beginning. I don't even know why. He hated me too. Like the Capulets and Montagues, we hated each other with a passion, but the original quarrel was long forgotten. Perhaps he was an immature 6th grader. Perhaps I was an immature 7th grader. Perhaps... perhaps.
How could I describe him? The boy with a horrible wit, knife-like sarcasm, and wretched manners? How can I describe myself? The girl with quick comebacks and equally sharp wit and sarcasm. The only thing that made me above this wretch, this monster, was my table manners.
But then, a change...
Did God speak to me? Did He correct me with His gentle, yet firm guidance, His quiet voice? Or was it just my conscience? Yet I had dulled it for a year, why would it rebuke me now? It must have been Him.
He is still an immature 8th grader. I am still an immature 9th grader. But our attitudes have made some progress.
How can I describe him? The boy with talon-like words, yet a beautiful smile, who can stare at you coldly, yet has such soft, brown eyes. That showoff; yet who would blame him for flaunting his basketball prowess? Horrible, yet wonderful.
Am I in love? HARDLY! But God has shown me that even my worst enemy can have good qualities. How can I hate my brother in Christ? How can I torment him and keep him from following the Lord? I can never take back the horrible things I've said, but I can try to prove my sincerity in wanting to end the feud. In all honesty, I do hope we end up like the Capulets and Montagues: reconciled friends.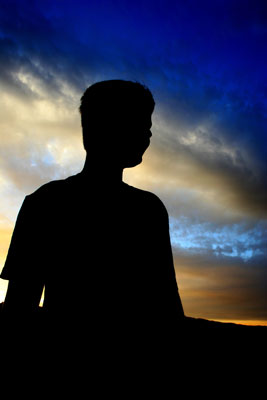 © Monica L., St. George, UT