Skim Milk
February 24, 2010
We went to the White House in the pouring rain. We stood on the cloudy sidewalk, staring up at the skim milk pillars and craning our necks to see the door. Standing and standing and dripping and dripping- we waited. Chloe was wet, so I shared my umbrella: a domed semi-sanctuary. But her mother brother brother wouldn't fit and didn't want to. Little darling Chloe had big blue eyes that were a sky without rain, and her mother's smile was a sun without clouds. We stood with our new friends, sharing stories and umbrellas, and we waited. 45 soaking minutes and a guard calls from the gate: Come back later! The Glorious President, the esteemed O BA MA, is holding a press conference, and you're not invited! Nana-nana-boo-boo! And walks away with his plastic-covered hat.

Shiver, shiver, what should we do? Come too far to go back now… Coffee? Yes. 'Scuse me, sir, where did you get that Starbucks? Two blocks up and one to the right? Thank you. Trudge slip splash two blocks up one to the right, then burst into warmth and good smells. We stand in line, pressed against early morning Briefcases. One skinny vanilla late, two small hot chocolates, one large espresso, please. Our not-friends the Briefcases snap at each other and Kelly picks up the wrong cup- Chai tea instead of hot chocolate. Lady with blond-dyed hair snatches it out of her hand. Kelly leaves the drink pick-up to me. Finally, sit at a table with too-hot chocolate in hand. Sigh. Squeeze over to the sugar-straw-creamer bar. Hm. Whole or skim? Jack be nimble Jack be quick Jack jump over the candle stick! Jump over the extra calories- skim. It comes out of the pitcher watery and white, the color of our old dog's blind eyes. All well. Won't taste it under the chocolate. Drink shrink, gulp slurp. Liquid warmth creeps into fingers and toes. Look out the window- no sky. Just grey glass eyes and giant metal thorns.

Hot chocolate gone, time to go. Back, back, back, back. Back to the Precious President's diplomatic mansion. Then, herded into line! Purses in the tub! Step through the metallic archway! Clear! Into the House! Don't drip mud on the skim milk carpet!

Step step step where so many Important People have stepped before, and saturate yourself in history. Slip down a corridor of windows opposed by pictures of our Beloved Barak; framed rain-soaked garden against framed crystal smiles.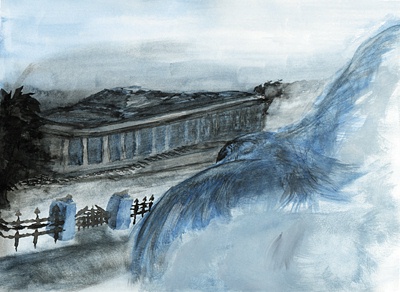 © Maria J., Phoenix, AZ