The subject = Your choice; Eighteen pages
February 24, 2010
I'm stuck in this room again.
Creative writing class equals boredom. It seems everyday, I hate the time I spend In here. I used to enjoy it; I enjoyed it a lot. Those days are gone. Now we are forced to write. The subject; your choice. Eighteen pages.
Now, every word that seeps through my mind on to the paper stings my hand to write. I think of something I pick up my pencil. It pierces the page and drags through the paper with every letter. It burns; it almost hurts. Not physically but mentally. It terrorizes me that my words aren't perfect, that what I write cannot be felt on a deeper level. My words offend me because I cannot describe what I want to say. I can but not in a way that I want to nor that is spotless. It feels like just another step that is just 'necessary' to move forward. It feels like a mindless game. No challenge because no one will take it seriously anyway? It feels as though a loose a part of me when I don't use my full potential. Why just be good, when you can be unparalleled.
I pear around the room at the others. Some are engulfed in their project. The rest, staring at a crack in the white cement wall. They sit still, almost lifeless. They focus; perfectly still. Perfection. They are completely committed. It looks as if they have almost stopped breathing.
Then theres me, 'looking' like my project has my full attention, but if you looked closer you would see me writing this. Venting my feelings because of my frustration of the whole situation. And now you are reading it.
Needless to say, I got a lot done today.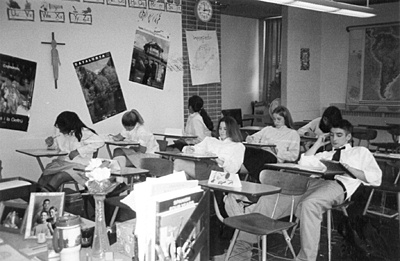 © Fox V., Whitesboro, NY