Red Roses
February 2, 2010
They say time heals wounds, but I say time creates them. Time has caused my pain to become greater and more deserted. I still remain aghast of the death my one and only true friend. Kara Roberts.

Kara was born in England. Kara was born into a wealthy family, but wealth didn't mean a thing to her. The thing she treasured the most out of everything was her rose garden. Roses always intrigued her; she even made perfumes from them. "Roses is a girls' heart, deepest treasures", she would say.

In the year of 1997, the family decided to move to the United States. It was a bold move, but it was definitely worth it. St. Simons Island piqued their interest. The ocean, the restaurants, just the beauty of it made her fall in love with St. Simons. So, the spring of '97, they moved into their beautiful island retreat.
When I was 2 years old, I met Kara in Winn-Dixie. She was simply gorgeous! Her long, curly, black hair matched her prominent and vibrant dark green eyes. Kara had a nose that was always upturned. The "I'm the Universe Top Model Look"

I was wandering around the store one day, and I happened to wander to the produce aisle in Winn-Dixie. I walked towards and asked: "Ma'am, I can't find my mommy. Will you please, help me find her?" She smiled, bent down to my height, and smiled. "Sweetheart, I'm quite honored to escort a beauty like you. By the way, I'm just six", said Kara. So, Kara escorted me around the store to help me find my mother. I was truly beleaguered by all the people walking around the store shopping. They were taller than me, which scared me a bit. Finally, we found my mother. I was appalled, because I thought I'd never find her. I ran up to her and gave my mother a splendid hug. Kara's mother was pleased and I was thrilled to find my mother.
Now, let's advance to the year 2003. I don't want to lose your interest. (I care about my readers') In 2003, I had just started the 3rd grade. I was excited and couldn't wait to see my friends. Kara was already long gone, and she was already in the 6th grade. I noticed that Kara had a quite wan complexion. She just simply didn't look herself. There were persistent coughs, and the slur of words. Kara couldn't run without coughing relentlessly. My qualms for my dear friend were becoming more frequent. I spent most of my quality time with her into the wee hours of the night. But by the grace of God, Kara's spasmodic symptom's vanished. The Roberts' were deeply apprehensive of Kara's sudden "ills".
Since the symptoms went away, we all went on with our mundane lives. Kara could run track again and she even passed her physical. After four years of great health, once again the same symptoms from the year 2003 appeared again. Kara became more sluggish, the persistent coughs had gotten so bad that she began to cough up blood. On the day of February 10, 2007 Kara was rushed to the emergency room. Immediate tests were administered, and I was scared out of my wits. I cried and prayed to ask god, to heal my friend. "Lord, please have mercy on her! She means a lot to me and I don't know what I'd do if she's gone. I beg you Lord Jesus. Please". The little prayer I told God seemed to have no effect. But I was not going to let the devil steal my joy. The tests had come back, and the results said Kara had a malignant tumor. The results seemed to slap me in the face hard. Kara and I begun to cry our eyes out, we held onto to each other like super-glue. Then the doctor came in and said: "Mr. and Mrs. Roberts? May I speak to you in private please?" They both looked at each other in despair. "Dr. O'Keefe, please talk to all of us. We are family. So please. Don't hold anything back." said Mr. Roberts. Dr. O'Keefe told us the options for Kara. Surgery was the main option and chemotherapy.
They agreed on both treatments, so the next day Kara was scheduled for 6:45am prep for surgery, and was scheduled for a 7:30am surgery. We both talk as if nothing happened, as if it was the good old days. But we both knew that, the cancer was not a joke, and we should not have perceived that nothing as happened. "Toya", said Kara feebly. "I want you to know that I love you. Yeah, I'm just 16. But please whatever you do, take care of my roses. You, mom, and dad. They are like my children and I love them." She cried an inaudible, and the only thing I could do but was to cry with her. Then a petite nurse walked and said: "Excuse me miss, but this young lady has surgery in 20 minutes." Kara waved goodbye. I stood there, looking blindly in the hallway, wondering if my friend will ever come out.
The operation lasted approximately 4 ½ hours. I paced all around the waiting room, nervous and deeply despaired. As we all were conversing quietly, Dr. O'Keefe came into the room. He looked tired but he still managed to smile for Kara's parents. "Kara is doing infinitely well. I am proud to say that the operation is a success. That night Kara was still under sedation, and she looked exceptionally peaceful. I was asked to go home and get some rest, I did what was asked of me and my dad drove me home.
After many months of chemotherapy and radiation, Kara went about her life as if nothing happened. We talked every now and again, but she rarely had the time to talk because the chemo and radiation weakened her. After a year and a half of medication, Kara went into a period of remission. NO MORE CANCER!!! We all were joyful and exuberant of the wonderful news. 2008 rolled and we all celebrated. No worries about anything, just a healthy Kara. I noticed that Kara didn't look herself after the remission. She didn't have that model glow. Kara had picked up a healthy weight, but she just didn't seem happy. She spent all her time in her rose garden tending and talking to them. Kara kept saying"Goodbye" to her roses. It didn't seem to me, normal. However, in July Kara caught a cold. She was frightened, as if she saw a ghost. The Roberts immediately rushed Kara to the emergency room. They noticed that she couldn't shake the cold. Tests were administered. Kara's cancer came back. It metastasized. Kara refused treatment outright. "I don't wanna live 'Toya. I've seen the other side. God has shown me what is waiting for me, in his kingdom."
August came about. Kara breath rattled in her chest, I could feel that death was waiting for its next victim. She stirred and beckoned me to come to her bed. "Latoya', said Kara. "I love you. Take care of my roses, they are my children. I must go now." The room was silent. Kara and I were the only ones in the room. That fateful night in August 31st, 2008, Kara left this world silently.

If I had a single flower for every time I think of you, I could walk forever in my garden.
~anonymous
I love you Kara.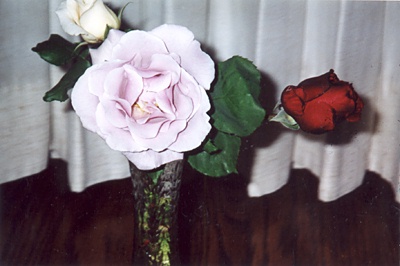 © Molly M., Palmdale, CA