The Great Influences I Have
February 16, 2010
Everyone has someone that has a great influence on them. I have numerous people that have great influences on me. One person that has a great impact on my life is my big sister, Jenee. She's always been there for me. She moved back to Chicago, though. I miss her a lot. When she was living in Decatur, I always wanted to be like her. She inspires me a lot because she wants the best for me. She's always been the one giving me advice. She still gives me advice even though she lives like 3 hours away.
The second person who has a big impact on my life is my other big sister, Mattisha. She also wants the best for me. She also gives me advice. She's the one I call when I'm having trouble. We have been through a lot together. She makes me realize right from wrong. She also makes me realize that I can't feed into the drama because I'm getting older. She's always telling me what I need to do. She gives me that push that I need to make sure my dreams do come true. She always tells me that, "Shauni you can do anything you want as long as you put your mind to it." She tells me all the time that I have stuff going for myself and I'm not a ghetto hood rat. She wants to make sure my dreams come true. If I need anything I know I can call her. We shared a lot of things throughout our lives and a lot of firsts. Like I remember when she was pregnant with her first and only child. She had all these weird mood swings. She also had a lot of crying moments. But I was glad to be a part of that journey. Now my nephew is one and his name is Quincy. She inspires me a lot because she's also doing positive things in her life. She's married, has her own house, and her husband is very nice. They both are in college. My brother in law is in college so he can get his welding degree. Since she's in school it pushes me to stay in school so my dreams can come true just like hers. Sometimes I want to be just like her. But I know I have to be my own person.
The last person that has a great impact on my life is my nephew Quincy. Quincy inspires me so much. I want him to see that if I can do it and make my dreams come true he can, too. He's only one but he's so smart. I love him with all my heart. I want him to do positive things in his life so I'm trying to make a good example for him. Sometimes it's hard but I have to think about is this best for my nephew to see me do this? That what gets me through is my nephew. He inspires me the most. I want his dreams to come true so he's the one inspiring my dreams to come true. All he needs is positive influences and he's getting those. He's like my little shadow. I want him to fall in the footsteps of mine or his moms or dad's. That's my little man. Just like his mom and dad I want him to be successful. He's really the one keeping me strong.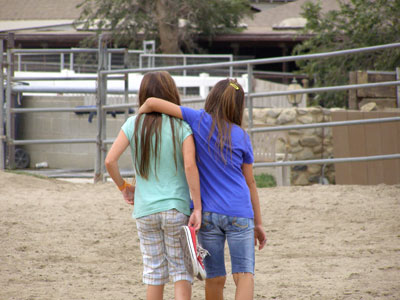 © Austin K., Studio City, CA