Unhappy Halloween
February 10, 2010
A person once told me that Halloween was meant to escape. Not from one thing in particular, but to escape from reality. What he said, meant that on one night a year you get to forget your own name, to forget your problems and create an entirely new person for yourself to become. I called that man 'crazy' and walked away in a rush. I did not think twice about him or what he said, until the day my world dissipated in front of me and I couldn't stop it. The day my dad died.
It started out normal, nothing out of the ordinary, except for it being Halloween and a half day. School was flying by in a flash. Candy and movies; those were the only thoughts in my head. Physically I was standing in the schools' gymnasium waiting by the door; mentally I was sitting on a couch at my best friends' house. I only had one class left to go before I could escape this prison people call school. That is when the beckoning voice forcefully yanked me out of my daydreams and back into reality. The woman's voice echoed throughout the hollow gym and made me shiver. Stone cold and without emotion she called me to the office repeatedly. Without much thought I made my escape, slowly deliberating what came next. In the back of my mind I already knew though. There was only one thing I could think of that could get me out of algebra class. And when I peeked through the glass window on the office door, my preconceived thoughts were all confirmed. In the badly decorated and slightly gray office, stood my grandmother, make- up smears all down her face. Her eyes were still leaking glistening drops, and all her previous beauty was eliminated by the tears. I took a breath and challenged myself to open the door and face what came next. So I did, and that is when, in my high school office, I found out my father died on Halloween.
There were things I knew that had to be done, people I knew who needed me more than I needed them, so I stood strong and didn't let myself break down. When my grandmother held out her arms for a hug, I avoided them with the slightest of ease. I strongly disliked hugs, but that is not why. I had been looking around the office when I noticed that my sister was nowhere to be seen. After an eternity of waiting, a shadow stopped in front of the door. The handle began to slowly turn and when the door opened, the creak in the hinges seemed so much louder than they had when I entered. The tsunami coming from my sisters' eyes told me that she already knew. News travels fast in small schools. She however, did not avoid my grandmothers extended arms. Stepping into what I am guessing was a warm embrace, my sister cried, completely disengaging all her shields.
Weakness was not something our family showed a lot of, but that day none of us were completely together. Simultaneously, all three of us realized that we needed to make our way to where we truly needed to be, and it was not my high school. My sister and I got herded out to the almost gold car waiting in the parking lot. I slid into the backseat, the leather on my skin like a popsicle on toddlers' lips; cold and sticky. For about the first ten minutes, we rode in silence, the only sounds were the occasional sob raking through someone's chest. I was the only person in the car not crying.
My breathing almost stopped completely when my phone started vibrating in my pocket and caught me off guard. The blue and red flashing lights did nothing to distract me from the name that was staring me in the face; my mom was calling. Reluctantly I answered the phone and lifted it to my ear. Her sobs were muffled, but there was no mistaking that she was crying. Voice shaking, she asked if I was okay. My heart felt like it was getting ripped apart. There were multiple cities between us and I could do nothing but reassure her, and I did just that. Making sure she knew I loved her, I said my goodbye and slid my phone shut. At the moment, I did something I knew I shouldn't have. I called my dad's phone. Just like I knew it would, it went straight to his voicemail and I heard his voice. Like I did just seconds ago, I said goodbye, this time I was talking more to myself though. Closing my hands into a fist with the phone still in it, I pressed my head against the icy window and took a deep breath.
I was trying not to talk, willing myself not to cry and it was at that moment that I understood. When that man I called 'crazy' spoke, I didn't care to think about what he was saying. Somehow though, in just one day, my world crumbled around me like a cookie and I could not get his words to stop echoing through my head. It was those words that made me want to escape, even for one night. It was Halloween and I should have been able to, just like that mystery man said. I could not though, and I still cannot. All night on Halloween I see kids running from house to house, pretending to be something or someone they are not. Every year I wish I could do that too, but I cannot. For me this day has become inescapable. I will never be able to put on a mask and forget he is gone. I will always miss him. Most of all though, I will not ever be able to escape that empty, sickening feeling I had when I realized that my dad never said good bye to me.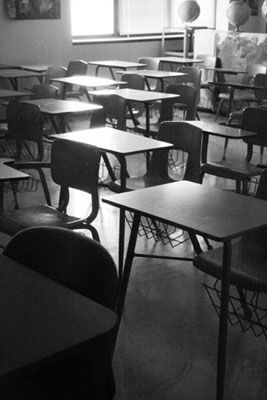 © Sean C., Princeton, IL