Mountain Air
February 15, 2010
As I closed my eyes the sound of cascading rapids echoed about me, engulfing my spirit. My nostrils filled with the scents of purity, of pine and dew drops. My skin basked in the sun, greedily absorbing the warmth it provided. When I finally opened my eyes and gazed upon my surroundings my lips were forced into an even larger grin than previously worn and a small laugh escaped my lungs, rushing past my bared teeth. For who could fashion a frown in the presence of these purple mountain majesties, in front of the stately sequoias and vivid vistas? I was in Mammoth Mountain, California, or, as I like to call it, home.

When I am privileged enough to spend my free time at my family's log cabin tucked away in the Sierras, I feel as if a different person has possessed me. I am suddenly ambitious, yet reflective. Spontaneity crawls through my veins, but I am never careless. I rarely procrastinate, and if I do so it is only to read an enriching novel or take a nature hike. I am the person I wish I could be all 365 days of the year. Sadly, I know this is not possible. Those mountain streams and wildflower fields have cast their magic and, only under their watchful eyes, may I attain my impeccable natural state.

I recall joyful memories of frolicking through those woods as a child, of transforming into a forest sprite or deer. I never was simply Ella, first grader whose only talent lied in exceptionally creative finger paintings. Instead I was a pure entity – an embodiment of nature and psyche, of unadulterated imagination. Nowhere else on this planet can I remember feeling so genuine, so at ease with myself. The boulders never criticized the way I talked, and the birds never seemed to care if I was "acting foolish." On the contrary, they were there to support my adventures, to set the stage for my self discovery, and due to these undeniable truths I was able to develop the habits that had lain dormant in me for all time prior. Regrettably it is only under cover of the dense expanse of trees do I take on my true persona and, while away from this haven, I am hopelessly flawed.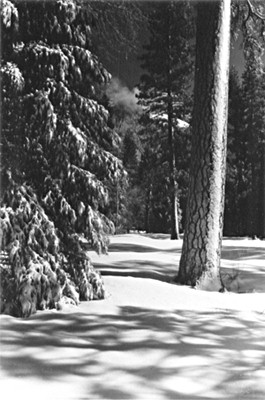 © Steve S., Marblehead, MA