How I Became a Lifeguard
MAG
Lungs bursting between each stroke, I strained to lift my head out of the water. Hand over hand, kick after kick, inch by inch. My exhausted body reached for the end of the pool. Asthma was kicking in: My breaths became shorter and weaker.

The extent of my swimming career was purely recreational, while the competitive swimmers nearby thought nothing of the seemingly simple task of a 500-meter swim test. Halfway through, I searched desperately for signs of reassurance. Pushing myself to finish what I had started, I could only think, Why didn't you take the easy way out?

Earlier that week, I had turned in my first job application at a local pool. Overqualified, I was hired on the spot, putting to rest any butterflies that may have been fluttering in my stomach. The tasks were menial: picking up trash, helping confused visitors, measuring the height of children before they went down the slide, those sorts of things. I am capable of more, but first jobs are never perfect.

A swim test was required, establishing little more than the mere fact that I was not completely helpless in a pool. Midway through, the manager administering the test remarked, "This looks really easy for you. Why aren't you applying to become a guard?"

"The thought hadn't crossed my mind."

"Well, lifeguarding demands more responsibility, strength, and respect. Thus the position pays $2 per hour more. Your swimming skills are strong enough. All you need to do is complete a certification class."

Inside I was a nervous wreck, unsure of myself, but I thought, You never know what you're capable of until you force yourself to do it.

Only four laps shy of becoming a lifeguard, my lungs were telling me to give up; I should have settled for less. My body said "no," but my mind said "yes." Four laps became two, two became one, and I finished; I had persevered.

The hard part was over. All that was left was to practice and learn first aid, CPR, and procedures for the different land and water-based emergencies. Memorization and practice made this a breeze.

Work started soon after that. A well-intentioned yet anxious feeling in me soon passed. Days, weeks, and months went by without incident; emergencies were rare. The skills and training I had so meticulously studied and acquired seemed unnecessary.

Today is yet another uneventful day. A boy bolts across the deck to his mother. I blow my whistle; "Walk!" I command. A girl is stung by a bee. A dab of ointment and a Band-Aid are a quick fix. A man sets up to dive. "No diving!"

The sun begins taking its toll on me. The little hand nears one, indicating adult swim. The other guards and I signal for the children to exit the pool. As a few stragglers make their way to the sides of the pool, I notice one child still in the middle.

Gasping for air, trying desperately to keep his head above water, the little boy is sinking. Adrenaline rushes through my body; there is no time to think. The seemingly useless training I had received is suddenly second nature. I dash into the pool, quickly bringing the boy to the side then pulling him out.

With my ear to his mouth and my fingers at his neck, I determine the child has a pulse but is not breathing. After administering two rescue breaths, I figure out that his airway is obstructed. I plant the heel of my palm firmly above his belly button and began thrusting upward into his stomach, counting, "One and two and three and four and five." Suddenly a stream of water rushes out of his mouth like a river. The child slowly regains consciousness.

As I drive home from work I feel a certain pride. All of the work I have done, all of the insecurities I have overcome made a difference: not only in the life of that little boy but in me as well. I ask myself how things could have been different. If I had accepted the menial trash-duty position, I would have been nothing more than a bystander. What if I had taken the easy way out?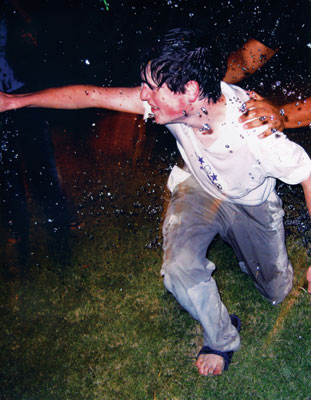 © Caroline H., Stephenville, TX