One Mere Flash
January 23, 2010
Just a photo in a frame was all it was. It hangs there with the thick black frame surrounding the Kodak perfect picture. The plain white wall with few cracks on the edges stands as nothing more but a faded memory. All fourteen grandchildren are there, but now forget the time the picture was taken. My two grandparents sitting with the littlest children not concerned if they will even be on the Earth tomorrow because this was one of the happiest moments of their lives. Do they even understand what was going on? To me, my grin means nothing now if I cannot remember what happened that day. Derek smiles as we were all gathered around the outdated flower sofa. He actually smiled. One that is so shy and quiet could not help but loosen the muscles in his mouth and burst out into slight smile. This one photograph meant so much to our family that it even got most of us to smile. So what exactly was going on? In the picture, we smile but time could only spare us that one moment to take it...then what? The windows outline light into the faded room which brightens our faces but cast shadows on the hardwood floor. Is that what our family sees when they look back at the photo? Are we all just a shadow in his or her eyes because not everyone in the picture is with us now? There were good times that must have happened, just look at the emotions on our faces.

The Kodak moment photographed happened just in time before the little kids, including me, squealed out of our seats. The mere second before the children and adults left the house held time for my mother to capture this timeless picture awaiting its frame. It was a party. It was nothing more than a normal family gathering, where we all were sitting around chatting. It took a lot of time and patience for my Aunt Peggy and my mother to gather all of the family and place them on the small sofa. The children ran around playing with their innocent toys awaiting a broken vase, as the parents were too tired to chase them. The adults figured they had better things to do than take a picture that they knew the probability of seeing it again would be slim. They managed to sneak us all around the couch, while the rest of the family watched us smile as their priceless faces caused our reactions. Was there going to be another party like this? Would there even be another time where we could capture our moments together as a united family but rejoiced? The times before the imprisoned instant actually led to the cause of this photo. Would there ever be another moment in my life such as this?

The facial expressions were telling a story that even I was incapable of interpreting. Peter, Ashley, Diana, and I left perfect expressions that show just how happy we really were. Was my family normal in this society today? Pictures usually show baseball games, happy children running around or the sunset on a foggy but beautiful beach, yet this was different. It only shows unfocused people, funny children's' facial expressions with two big windows. We sit there, quiet, but now understanding why we were taking the perfect picture. It was at my unfixed, unpainted, and unfinished old house. Those windows that I previously mentioned are gone. So what exactly does this picture mean to me? My house is redone, my grandfather is gone, and most of the people do not even look the same. However, the smiles remain. My memories remain within what I believe is only a thick cranium to me.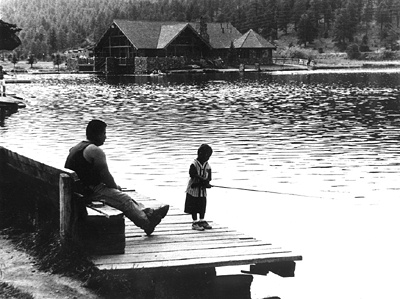 © Ryan P., Greenwood Village, CO