Believe it or not, forgiving can make an impact on others' lives.
January 22, 2010
Believe it or not, forgiveness can make an impact on other people!
From my perspective service and service hours are okay. However, the relationships I make by serving the Church, God, and Jesus are much more valuable. Over the past fourteen years I have had plenty of opportunities to perform works of service and strengthen my relationship with God. This in turn keeps me open and willing to forge new relationships with others. I think of service as a benefit to Catholicism – there is always a chance to help. For example, I have to perform "X" amount of service hours for the school I attend. I strive to use these perks of my faith to my fullest advantage. Also, I persevere to make the best possible influence on as many people as I can. By doing so, I make a positive impact on others' lives. However, different people impact others in different ways.
In addition to expanding on my faith by attending a Catholic school, it is also required that I perform twenty- five service hours. Although I do not agree with "required" service hours, I feel it is my duty as a follower of Jesus Christ that I serve others. I feel this way because having "required" service hours makes me feel like service is a "punishment" or an "assignment." Service should most definitely not be an "assignment." Service is a privilege. I achieve above and beyond my required service hours. I feel service does make an influence on those receiving my work, but I feel the bigger influence is forming relationships with others. These relationships can be formed from things as little as picking up someone's books after they have dropped them or as big as helping local ministries with relief efforts.
I feel the biggest positive influence I can make on someone is by forgiveness. I am very blessed to have great people around me all the time. The one thing I try to do in my everyday life to make a positive impact on other people is by staying forgiving.
One of my closest friends and I have been through quite a lot. We have a very open friendship and one of the things he constantly reminds me is how forgiving I am. I feel this quality helps me become a more open, willing, and serving person. Forgiveness is a very hard concept to understand especially at such a young age. The Bible says, "If you forgive those who sin against you, your heavenly Father will forgive you. But if you refuse to forgive others, your Father will not forgive your sins."*
Being around girls and being a girl can cause lots of, well, drama. This drama has ended many friendships and has caused lots of grudges. Forgiveness, while it may not be immediate, should always be accepted upon arguments. I feel that if others see me forgiving people, they will forgive others too! This would then make my community a more forgiving place.
Anyone and everyone can make a positive influence on others. Just like talents, the impact people can make on others varies. My impact on others is my ability to forgive. This unique quality of mine has made an impact on a lot of people. How can you make an impact on others?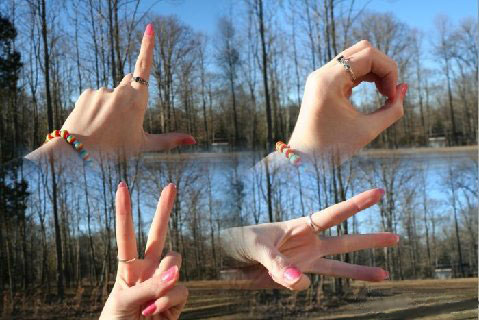 © Kayla D., Croydon, IN