I love who I want to be
January 21, 2010
I work so hard to keep everything covered. My friends think that my life is easy, I have a 4.0 GPA, and I have a boyfriend who is awesome, but there is a lot more to see.
I have tried for over seven years to keep things in order, but it just got harder and harder. The unending depression killed me inside, the bipolar disorder kept me flying, the agoraphobia caused anxiety, and the schizophrenia scared me. How was I supposed to cover everything? After five long years of fighting, I took up cutting, but I knew that it was wrong. I had to stop, and I did. But I got in trouble from it. I wasn't allowed to leave the constant watch of my annoying mother for two straight months.
The bipolar disorder kept me angry at my friends even when they didn't do anything wrong. They would only have to say little words, and I would flip upside down and inside out! I was afraid that I was ruining my life! I had to change!
I couldn't walk into Walmart and breath on account of the agoraphobia. Agoraphobia means that I have social anxiety disorder. I can't be around too many people at one time, or I can't breath. I would always have to run out of the store like a crazy person!
Finally, I got help. I went to my doctor, and she found me other doctors, and they found me other doctors. I have six doctors, and I am on four different pills. And I am happy. I'm happy that I got help, and I am happy that I didn't wait forever to stop the depression.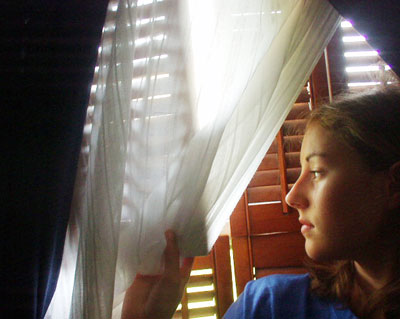 © Candace R., Mt. Pleasant, SC