The Canvas
January 21, 2010
A comedian named Danny Kaye once said "Life is like a great big canvas, and you should throw all the paint you can on it." While growing up my life was like a dark and white painting. A boring piece created by the shallow experiences of the mind, body, and environment. Similar to a black hole this painting would reject the colorful and exciting moments of life. Willingly I pursued this painting with the slender strokes of the darkest paint, feeding it the boring moments it needed and discarding the colorful ones. Slowly and surely I painted the blank canvas.Until the painting displayed a black and white cover. Hiding it from the color it would soon receive...the beautiful colors that would splatter.

My Story would transpire in the days when kids first bullied others, first fought others, and first tattled on others. Only in the times of middle school, the years I detested the most; Back then I was never welcomed into any social groups. My shy demeanor kept me at a distance from friends but acquired attention from bullies. It was hard for me in those times, I didn't understand why everyone hated me. And why everyone had changed from the kids I once knew in elementary school. When I needed some one's help and comfort they had all turned their backs on me. I was alone to scream and fault myself. Everyone had left my side, everyone except Porsche.

In the times I couldn't be myself I had met someone who could. Porsche was a role model for me and in those times I needed that. I remember I once spent a whole lunch in the bathroom concealing myself from the people who wanted to beat me up. I had felt stupid, it was almost laughable. It killed me, I always wondered why I couldn't fight back, why I couldn't get noticed for the right reasons. So I was excited that Porsche gave me a hand and loved me and chose not to hate me like the others, she was such an angel then. But I didn't have all classes with Porsche so I had to resort back to my loner days. I remember when my mom had to come to the school to talk to my teacher because my grades were so bad. My teacher began explaining how I was in school, "She doesn't give me any trouble, she just sits there with her head down not participating with the class." That was how I was when Porsche wasn't around. I didn't like people then because I felt people didn't like me.

"If she had a brain, she isn't using it." That's what my parents said when they got my seventh grade report card. My grades had rapidly plummeted to what I called the "bottomless pit of hell". My parents went insane with the idea that I might be mentally ill. With the knowledge that my parents hated me I went to Porsche. If anyone in the universe could grant me with the knowledge of how to get my F's to A's it would've been her. Porsche began to tutor me in the library as an everyday routine; As Porsche taught me my grades began to rise. My teachers were happy with the changes they saw in my work. I was happy as well, once again Porsche had saved me. I had continued hanging out with Porsche in the library and everyday I noticed Porsche always came with a small comic book that always caught my eye. In the midst of doing my work I can always recall looking over her shoulder peaking at the strange book she held in her hands. She had held it so tightly, as I continued to stare a voice echoed out the corners of my head, "Porch, what's that you're reading?" My head burned with embarrassment as I realized the squeaky voice was my own. It quickly disappeared as I glanced to see Porsche facing me. "It's called Manga Kem, wanna see?" Before I could understand what she said my hand reached over for the book.

My heart pounded fast as I felt the warm motivation to scan the cover. The fancy title read Akuma De Soto in surprising warm and soft colors. The picture in the center of the petite book revealed a beautifully drawn man and a woman. I immediately flipped through the manga book;The beautiful artistic drawings left me in reverence. I remember looking at Porsche and asking her in the most determined voice ever, "Where can I get more?" That day when I came home I recall running to my computer and searching up "Manga" in the Google search engine. I clicked the first result that said "Hana Yori Dango", I read it, and continued to find others. I felt then that I had found my identity. I had read more every day, every week, I couldn't stop then. But my life changed once I searched Hana Yori Dango on youtube and found the live version of it. It was in Japanese with English subtitles and it became my most important day of my life.

As my eighth grade came to a halt, I can always remember all the Asian dramas and anime I favored on my computer. I had felt then that if I did all my homework first, then I would have more time to look at them. Porsche and I shared our preferred manga styles and anime. We didn't share Asian dramas because at that time Porsche didn't like them. I began to notice that after every anime and Asian dramas a song would play. This guided me to Asian music. I loved it even if I had no clue what they were saying but it didn't matter to me. I just couldn't stop. I listened to everything like Thai, Japanese, Taiwanese, Chinese and especially Korean music. While searching up Korean songs I discovered my favorite "If I don't have I will die" artist. (Rain (Bi) age 26, born four days after my birthday). I've grown to love anything Asian. Ever since I left middle school and entered high school Asian stuff has been my safe zone. It's been something I can let my guard down to. Something that has made me, me.

Someone once told me that "Life is like a great big canvas and you should throw all the paint you can on it." If I had to show the painting I had when I was little, I would hide it. I would hide it and continue painting it in solitude. As my brush dripped with fear and sadness I continued painting in that grungy black and white. Reasoning that making the painting happy will somehow make me happy. But as I painted I didn't change and it didn't change. It appeared as a friend but it easily transformed into an enemy; choking me with the endless emptiness of a lonely mind, holding me with the binds of company. I had no life or identity as the painting took over. The black dread it surfaced clouded my sight as I thirsted for color, for life. Lost in the boldness of the canvas unable to hold on any longer. The painting's demand held me mute and unable to breathe. It promising me hope between its painted ends dripping with black. It dwindled into a wet black smile. I called this painting "Hope". But if someone told me that now i would gladly render you with the glorious portrayal of life.The colorful paint smothering the black lively monster that compelled me before. Because in this painting I possessed it, I choose freely. The painting that is shaped by the colors of love, life and fun. To this painting I call it "Change."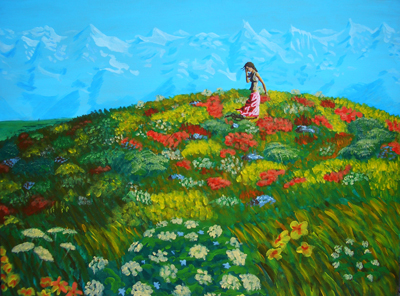 © Allison F., Langhorne, PA