A Trip to Another Lifetime
January 20, 2010
It was a bright, warm, morning, with the sun shining in my eyes. With eyelids still heavy, I went to step onto the bus. As I stepped on, the only thoughts running through my head were about what we would be doing that morning. However, during our short trip to Beatitudes, more thoughts began to pop up. One such was, sadly, who was it that we were helping, because I had not actually been told by anyone. So, I turned to the person sitting next to me and asked what Beatitudes was, and they briefly responded that it was a retirement community. At that moment, all of the views of retirement communities out of various forms of entertainment swarmed into my mind in an instant.

Right at that moment the bus pulled up to Beatitudes and it was, to me, as if we were pulling into a mysterious domain, in which old people were waiting around every corner, ready to gnaw on me with their dentures. So, I cautiously stepped of the bus, legs wobbling slightly. Looking one way, and then the next, I followed along with the group. We shortly passed through the entrance, and off to the side, the retirees were enjoying themselves talking. My body softened slightly after seeing this. The group continued onward, ate a small breakfast, and got our assignments for helping out around the premises. My group went to clean up along one of the side of the establishment, while other groups went to help out in other areas.

As my group was working along, one of the residents at Beatitudes came over to me, simply beaming after seeing us helping to clean up our area. She introduced herself, saying how grateful she was for what we were doing. She told me to tell the rest of my group how thankful she was, and continued on her way. It was then that I realized that, although old people were, occasionally, somewhat creepy, which is true of all people, but the residents in Beatitudes were the same as any other person. From that point on, Beatitudes became something not to be spooked by, but something to be happy to help.

The rest of that day went well. Everyone joined together, cleared the decorative oranges off the trees, and took a group picture. The experience was one to be remembered, showing that not everything told to you is true.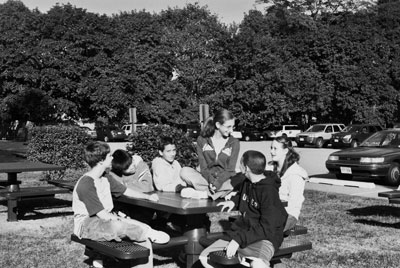 © Caitlin F., Pequannock, NJ