Fishing and Life
January 20, 2010
Gentle, rolling waves lap against the boat's hull. Placid and serene, no land, no noise; just man, sea, and FISH! Suddenly fishing lines scream as they are ripped from their reels. Hundreds of yards away, a two hundred pound sailfish flings itself gracefully into the air. Leaping to my feet and racing to my rod, I realize this is fishing. Twenty miles off-shore, disconnected from civilization, nothing tops fishing!

As a child, before I ever uttered a word, I was presented the ultimate toy, a fishing rod. Its resplendent reel intrigued my young eyes and the spools of line were never left fully wound. The circular motion of reeling in the line simultaneously soothed and exhilarated me. The intricate knots perplexed and intrigued me. I would tie knots as long as I could, stubbornly deviating from the guidelines given to me by my wise uncle.
But it was not until much later that I stumbled upon the boat. How beautiful the sight of a thirty-five foot, five-hundred horsepower-driven boat which could defy nature as I knew it. The boat which dwarfed me could effortlessly skim across the water, weightless, and carry me far away; far away from the world I knew, packed, crowded, and noisy. Far away to a new world of serenity and enchantment; so far away that land was not even a memory. In this world three-hundred and sixty degrees of my vision were consumed with blue. Navy blue met powder blue with a comforting embrace at the horizon. No clouds dared disrupt the unparalleled beauty and the only change was the routine, arching movement of the warm sun.

Separated from civilization I finally connect to myself. Free to think my thoughts. Free to feel; feel the peace which accompanies the gentle splash of waves rolling continuously across the water. Then feel my heart pound against my chest as the fish and I struggle at a game of tug-of-war.

To me fishing is like life. One moment soothing and in an instant chaotically enthralling. Life is an ocean, with no set path, but many routes to take. Fish are the opportunities in life, opportunities which require risks to be taken. Sometimes in life you just have to have faith and drop a line in the water hoping for the best. Fishing may take me far away from civilization but of all my activities it has taught me the most about life.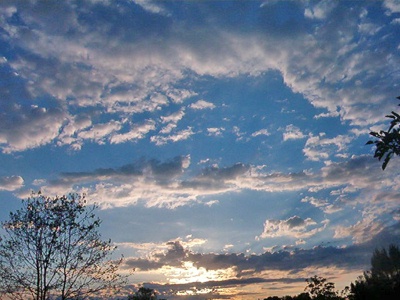 © Kaitlin M., Vincent, OH