Times Are Changing
January 19, 2010
I remember freshmen year. The two of us were just friends. We had only two classes together. The first was word processing and the second was English. Technically we had PE together too, but since the boys and girls were separated I never saw him. We both had the same friends and hung out with the same group of people, so we were around each other a lot. We sat at the same table for lunch and hung out at the same spot during break. We both played soccer and so we'd walk to practice together almost every day. Some days he'd offer to carry my bag or offer me his jacket if it was cold. He was so sweet and such a good friend that I started to have a crush on him. The crush didn't last though. Eventually soccer season ended and swim season began. I started to see less of him and more of the boys swim team. The crush had ended, for now.

I remember sophomore year. The two of us were still just friends. We had every class together except for two. We sat next to each other in almost every class. We still had the same friends and sat at the same table for lunch. Because we had so many classes together we were around each other constantly. Our friendship grew and we became closer. We went to Knott's Scary Farm together and he was my maze buddy. I held onto his arm and he protected me from all the monsters. By the end of the night I realized that I had a crush on him again. Two months later he asked me to be his girlfriend and I whole heartedly said yes.

I remember junior year. The two of us were boyfriend and girlfriend and had been for some time. We had four classes together and we sat next to each other in every single one. We didn't hang out by ourselves even though we were dating. We still sat at the same table with our same friends. We would hang out all day at school, then get home and text each other constantly, then talk on the phone till we fell asleep. This was the year of our first big fight, our first anniversary, and our first prom. This was the year we fell in love. During junior he became more than just my boyfriend, he became my best friend.

It is now officially half way through our senior year and we are still boyfriend and girlfriend. We only have one class together and he sits right behind me. We still hang out with our same group of friends, although some old friends have left and some new ones have joined. For seniors, this is the time of sending college applications and receiving acceptance and rejection letters. It's a time of change and preparation for the future. Change has never been so exciting and terrifying all at once. The future is full of promise and new adventures, but right now I'm still enjoying my current adventure and I'm not quite ready for it to end. After senior year everything will change quickly and dramatically. I fear that next year we won't be boyfriend and girlfriend. I fear that we will not have any of the same classes or even attend the same school. I fear that I will no longer hang out or even talk to my group of friends. I don't know what the future holds and although I'm excited to discover what lies ahead, I'm also terrified of leaving behind the world I know and love.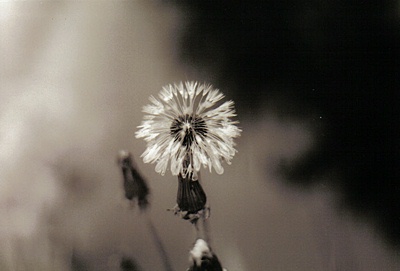 © Sarah S., Poland Spring, ME