My Amazing Move to Qatar
January 12, 2010
I can clearly remember the day that my dad came home with the terrible news that my family was moving to a different country because he had been transferred to another job. It was a Thursday night when my dad walked into the door and I could already tell that something was wrong. It felt horrific not knowing what was wrong with my dad or what he was going to tell my family. The moment he came into the door he looked at my mom and told her in a very tender voice, "We are moving again!"
My mother immediately responded by saying, "where to?"
And then my dad answered, " we will be moving to a city called Doha, Qatar in the middle east!" When my dad finally came out and told us the news, part of me was full of bliss and then the other side of me was filled with endless hurt and sadness. I was totally destroyed because I already knew what it was like to basically have to start over again and this wasn't going to be a very easy move. Finding all new friends and not knowing weather people were going to like you was the worst feeling ever. The other half of me was filled with bliss because I had always wanted to move to somewhere that had a different culture, and that was totally different from where I had lived most of my life. Making new friends was like starting over with life because you had to be careful of how you acted around people, because usually you would be able to act however you wanted to and your friends would know what you were really like.
When moving day finally came, it felt like it was just yesterday that I had heard the news from my dad. I had always thought of moving day as one of the greatest days that there could be, besides Christmas and my birthday of course. Once all the couches and beds had been fit into the container, we took one good last glance at our amazing house, which was standing gracefully along the trees and the bushes. Looking down out wonderfully decorated street by all the Christmas lights our house was the one that had the most and best decorations on it! After that we walked over to the neighbors that we have had for the last couple of years and we had gotten so close with those two amazing people. The feeling of walking into their house that I had lived in for the last three years was so heart crushing for me because I had left part of my life in this house and it killed me to know that someone else was going to live in the house that I basically grew up in.
So after we had said goodbye to all of our amazing friends it was finally time to get onto the plane and head for the supposedly "amazing" place call Doha, Qatar. As we were boarding the plane I thought back to all the amazing memories that I have had experienced during the last two years that I had spent living in this amazing country, and now we had to leave it for some city in the middle of the desert called Doha. Right as I was thinking that I realized that a stewardess was addressing me and saying, "Sri, would you care for a drink before take off?" and I was actually surprised by this because this was not normal for an airline to have pre-flight drinks. The plane flight over to Doha was horrific, because of the fact that it was a seven-hour flight to Frankfurt and then in Frankfurt we had a two-hour layover. The layover was not very pleasant, but my family mad the best out of what we had, we stayed in the Lufthansa Hon Circle Lounge that was one of the very best airline lounges there was at that time. Since the company was moving my family it was considered a business deal so the company paid for business class flight to our destination.
Once we were on final approach to Doha, Qatar I can clearly remember looking out the window an when you are on final approach to a big city you would usually see all the lights from the city, but this was very different there was maybe a light ever two miles and then there it was all the lights of the heart of the city, maybe the size of Harris County. The airport was tiny considered to the airport that we had left back in Houston, Texas. It was a very modern and nice airport, there were flat screen televisions everywhere and they had the latest technology for security and everything they needed they had in the dessert it was unbelievable. Right after we landed I turned to my mom and asking her, "Mom why did we just land in the middle of nowhere?" and she replied, "we did not land in the middle of nowhere we just landed in Doha, Qatar!" and then I finally realized that all the things people have said about Doha were about to come true. I thought that the next couple of years that I was to live in this place called Doha were going to be dreadful.
As we exited the airport my dad told us that we were looking for our driver to take us to our house, which was going to be located in a compound called Al Jazi. This compound was guarded by two United States Army officers who were each carrying M-16 Assault Rifles, and they only opened the gate to people who lived inside the compound everyone that didn't own a house inside the compound had to have a very special mirror put under their car, and they had to open their trunk so that the army officers could examine the whole car for any dangerous substances or weapons. Once we exited the car at our house I realized that it might not be so miserable after all. The house was a two-story house that had descent size, but all the houses looked about the same in the compound. Our house had a stairwell going up about three stories including the balcony, and then it had a very organized and big kitchen. The living room was partially opened to the dinning room, so you could be eating and watching television at the same time. And another thing that the first floor had was a sliding door that leads right to our open and appealing back yard.
This wasn't the first time that I experienced a different culture than I was used to, but it was the first completely different culture I had ever been around. When I used to live in London, England I experienced the British culture, but the culture they had there was at least a little bit like the culture in the country I had lived in before moving there.
Another equivalent cultural change was coming to Houston, Texas from Great Britain, all these cultural changes were nothing compared to the cultural change coming from Houston, Texas to Doha, Qatar. The people had totally different ways of dressing and talking to each other. This cultural change was totally new to me so I was astonished by the amount of cultural change between those two countries. If you would walk around in the streets in the U.S. you would find people wearing t-shirts, and shorts but if you would go out in the street in Doha, you would see people all covered in black dresses. I thought that this was astonishing that people would have that much black on them even thought it would be like 120 degrees Fahrenheit outside. This fact totally blew me off my feet, if you saw someone dressed like they were in the U.S. you would think that that person would be crazy, or out of their mind.
The other major cultural change in society was the way that people expressed friendship and relationships. In the U.S. you would expect people that are involved in a relationship to give hugs whenever they see each other and then they would say something like "Hey honey!" but in the Arabic culture this was strictly forbidden. In the Arabic culture you are allowed to do everything you want in your house but once you step foot out into the street where people can see you, you would get in so much trouble. Showing public affection was one of the most important rules in Arabic culture. This was totally outrageous coming from a culture where basically everything was allowed in public to a culture so strict in doing thinks in public was shocking. I did not know all these rules before I moved to this country, but I found out from one of my friends from school thankfully. That's how I found out about most of the Arabic customs and cultures, because I had a friend who was a son of the brother of the sheik of Qatar and he knew all the Arabic customs and rules. Some of the rules that the Arabic have are outrageous, but some of them have a good point in keep their society under control.
This extreme cultural change changed my life in a very monumental way, because after my three short years in the State of Qatar I realized that no matter where you go in this world you will always find different cultures and they will always react differently and have different rules that are for you to follow, even if you were only visiting that country. So no matter what the reason is for your visit to that country you still have to respect their culture and abide by their rules. I think this is a very important lesson for everyone to learn in their lives, because once you learn this lesson you will never look at different religions and culture the same way again. You will be able to respect the cultures differences and rules.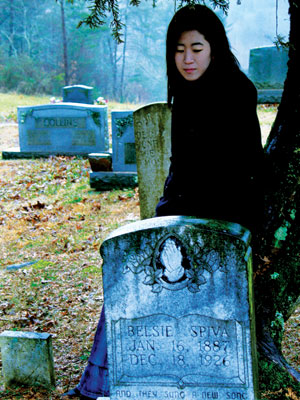 © Michelle B., Blairsville, GA