Beloved Pastor
January 12, 2010
I'll never forget this dreadful experience. I was vacationing in Accra, Ghana, having fun with my sister, Elizabeth, and talking to each other while we enjoyed the warm winter weather on a sunny day in the Southern Hemisphere. The weather was cozy and comfortable to be with family and friends. The kind of day that just makes your mouth water and long for ice-cold lemonade. She was texting her friends while I started texting my best friend, Rachel. We were talking about our experience at our middle school, Our Savior Lutheran School. We missed Our Savior so much that we wished we didn't have to go to high school just yet. I then asked her, "How's your summer going so far. She replied, "Fine, I'm going to Hawaii pretty soon. It's going to be so fun and comfortable. The weather there is nice and the water is incredibly clear. How's your summer going?" I replied. "Fine, just in warm and chill Ghana." She then said, "I just went to church today to hear God's word. Pastor White was teaching a lesson and told us the news that Pastor Glammeyer had just passed away. He was sitting at home when he suddenly collapsed. The doctors said it was a stroke." For the next few minutes my mind went blank and everything that happened during that minute felt like I was walking through an Amtrak train, rolling through a remote landscape. The landscape was formed by memories of Pastor Glammeyer. As I walked through the train, every window I passed showed a different memory, like a film reel shows frames and tells a story. I snapped out of it once I got to the end of the train. I was shocked and traumatized by the news and told my sister, Elizabeth. She said, "What? He can't be dead. He was so cheerful to everybody! He loved children so much! He loved the Lord with all his heart and all his mind." I said, "How can such a lovely, wonderful, man of God die so suddenly? He was so loved by his family, friends, the school, and children. He cared for the ones who were sick and needed prayer."
When I was in second grade, Pastor Glammayer would take children to his office after lunch. I got to go one time and he is so kind to me. His office was sort of small but big. Pastor Glammeyer's office was filled with chocolate and Easter candy. His office also had a picture of Jesus right when you enter you can see this man on the cross and wondered who it is. He explained it was our Lord and Savior Jesus Christ, who died on the cross to forgive our sins. He showed us the church and how he loves the Lord. Now since he is gone they don't take children anymore to his office. My mom has a prayer meeting at Our Savior Lutheran School, and my dad and I was picking her up. When I got there, my dad asked me to go call my mom and on my way there I saw his office with his name still on the door. It was just there empty. I knew I was not over his death yet. I knew I hadn't accepted his death yet. I was still mourning on the inside.
Not too long ago, my brother Joshua felt very ill and was hospitalized. Even though he had diabetes, lung cancer, and other diseases, Pastor Glammeyer still came to the hospital. He would just lay his hands on Joshua and pray for him to heal and get better. Pastor Glammeyer was a wonderful man. Pastor Glammeyer was just an astonishing man and that is what I loved so much about him.
The last time I saw this great man was on my graduation day. My graduation was so beautiful. Our class colors were purple and silver. We picked purple because purple stands for loyalty and is spiritual. Silver can impart a feeling of being rich. On graduation day our class verse was Joshua 1:9, "Have I not commanded you? Be strong and courageous. Do not be terrified; do not be discouraged, for the Lord your God will be with you wherever you go." This verse is so touching to me because it shows me that we should be strong when we are entering high school as a freshman. I know that God will give me the courage to perform to the best of my abilities. My graduation was such a moving experience for me. At the end of every graduation they play Go My Children With My Blessing and that is such a touching experience. After the ceremony my graduating class lined up in the hall of the church to meet family and friends who came to support us. During the goodbye greetings Pastor Glammeyer so joyful greeting me and said such touching words to me. He said, "May God bless you Esther on your way to high school." I said, "Thank you and May God bless you during the summer." In my mind I felt as if I was going back to the first time I was dedicated to the Lord. I was about to cry because that touched me inside.
Even though he looked old on the outside, the inside he had a marvelous heart like Jesus. He loved the Lord with all his heart and his entire mind. When I was in Ghana and I heard the news, I wished so much that I could be at his funeral. I wished I had seen him one last time before he went to be with the Lord. Even though I wish I had been there, I know with all my heart that his memories will always be kept with his family, friends, and Our Savior Lutheran. He will never be forgotten, and he will always be a beloved pastor.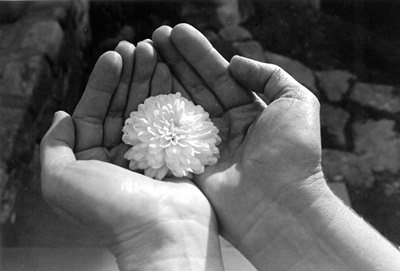 © Beth S., Marblehead, MA