Skiing With Grandma
January 18, 2010
The frigid air stung my face as I bolted down Keystone Mountain. I tried hard to ignore the persistent cold biting at my fingers and toes, focusing instead on the challenging terrain beneath my skis. I couldn't find my dad on the slope, not an uncommon event on our ski trips, although this time, my cell phone was not picking up a signal, and I couldn't locate him in our usual way – with a call up or down the mountain. I continued to ski alone, hoping to find him back where we were last together. Keystone Mountain was too exquisite to neglect in search of a pay phone. After approximately an hour of vigilant skiing, I finally spotted my dad waiting in line to board a lift. As I sped to his side, I saw him answer his phone. I listened nervously to his responses; moments after the conversation began, I could tell the discussion was not a good one.
"So she's at the Eau Claire hospital?" my dad said with surprise.
There was a pause before he spoke again, " In the IC unit? What do they think happened?" He sounded shocked.
"Alright, wow, umm, ok well please just keep me updated, oh and do you have her hospital room and phone number?" My dad finished the conversation with a concerned tone and a tortured face.
Before my dad could explain, I knew what had happened. He was talking to his sister about my grandma, whose health had been deteriorating. Until this day, I had denied the gravity of her failing heart and kidneys, the problems of old age, and the ominous prospect of her death.
Soon before descending the lift at the top of the mountain, my dad spoke. "Grandma is in the hospital. Colleen [his sister] drove up to visit her for New Year's yesterday, and took her straight to the emergency room after she started complaining about chest pain. They just transferred her to the intensive care unit." I pictured my chubby, loving, grandma, with her short white hair, lying helplessly in a bed in a hospital room in the middle of Wisconsin. I wanted to be sure she was going to be OK, but my dad didn't have a confident answer for me. We sat on the lift in disbelief, hoping against the odds, that she would recover.
Panic gripped me as I headed down the mountain and into the wind. I was skiing a black diamond and I had to pay attention to the evergreen trees and moguled snow on the path, but my grandma's health was my main focus and remained so for the rest of the trip. We continued to receive updates on her condition; at first, doctors thought that this episode was mild and would only mark the end to her independent living. My aunts and uncles, scattered throughout the country, began surveying different assisted living facilities and debating the best location for her to live the remainder of her life. But, within a couple of days, the doctors confirmed that traveling would take too much of a toll on her; the choices were narrowed -- she would have to remain in Wisconsin. The prognosis continued to get worse. Next, the doctors said that she would need to stay in the hospital for six weeks before she could move to a new home. It was difficult to take in this news, for within the space of a few days, my grandma's independent life was crumbling before me. Although her condition was critical, my family was relieved that the doctors were not expecting her to die.
Though her death did not appear to be imminent, I was very sad that she would no longer be making trips down to Chicago. She lived in a small town with one convenience store, a post office, a small library, a couple of churches and a K-8 grade school with only 90 kids, in the heart of the Wisconsin farm country. Her residence proved to be a very impractical destination for the rest of her family to reach. Fortunately, I had just had a chance to see her for Christmas, less than two weeks before. We played our ritual games of 500 rummy and I was crowned rummy queen, yet again. I could tell she was not happy with her defeat, she never was. She loved to talk and was always eager to voice her opinion. Our conversations ranged from politics, to her pet pig, Penelope, who she adopted as a child growing up on a dairy farm in Iowa during the 1930's. Evidently, when my grandma was about eight, she encountered her animal friend lying hurt on the side of the road, and from then on kept Penelope as a pet. Perhaps it was my grandma who taught me my special fondness for pigs.
Everyone loved to tease her about her inability to cook, something that I, ironically, enjoy very much. Her culinary failures are well known stories throughout the family, and are lovingly shared amongst her children. An especially notorious incident occurred during one of the summers my cousins and I made our pilgrimage up to her little town of Fairchild. The drive took about six hours, and, being an impatient child, it was never enjoyable. When we finally arrived around 9:30 that night, we were expecting to sit down to a nice meal, but when we opened the door, an unpleasant surprise awaited us. My grandma evidently forgot about the pork chops she was preparing and when she finally went to check them, they were burnt to a crisp. The meat had withered away from the bone, and my grandma laughingly offered us a jet-black feast. Even the dog refused the once succulent pork chops. As an alternative, my grandma asked my dad to go pick up pizzas from the gas station, the only place to buy pizza within 30 miles. The night the Gnabasik family sat down around the dining room table to Cenex pizza lives on in infamy.
My grandma contributed an infinite amount of stories, which were shared amongst her children and grandchildren. The time she made tuna casserole, without the tuna or, how every Christmas she somehow bumped a votive candle on our dinner table and burned her napkin, were funny, regardless of how often they were told. She never denied the humor in them either; instead, she embraced her little flaws. But, as our ski trip went on, it appeared that there would be few memories left to make. Her heart and kidneys were failing rapidly, and the options for treating her multiple conditions were limited. During the final days of our ski trip, no one was expecting my grandma to die. But when we arrived back in Chicago, my dad got another call from his sister and moments after we walked into our house, he left to say good-bye to his beloved mother, who was indeed inhaling her final breaths.
The next day, I returned to school, and spent my day thinking about my grandma. That night, on the phone, our final conversation was probably one of the most difficult I have ever had. She was hard to understand, and her mind was drifting. Hopefully she was already in a relaxing place, without the pain and suffering she was enduring in her hospital bed. It was hard to believe that I would never talk to her again, let alone see her. As we spoke, the phone trembled in my hand and my body violently shivered against the floor. She told me that she was proud of me, and that she knew I would become a successful person in life. I tried to comprehend all that she was saying, but my thoughts and emotions were rushing everywhere. Our last words were a simple I love you, and I will never forget them.
Twelve months later, after the shock of her death has subsided, I am reflecting upon the final words and moments we shared together. Although we enjoyed joking around with her, she had another side – my grandma was a committed and caring woman who loved to help others. Even as an old woman, she volunteered to read books to children at the grade school. And though she never had much money, she helped fund scholarships for kids at her local elementary school. In many ways my grandma served as an example for my family, and, as I get older, I would love to make her proud and carry on her legacy. Hopefully, I will continue to help others, even during tough times and I will care for my family as she did for sixty years.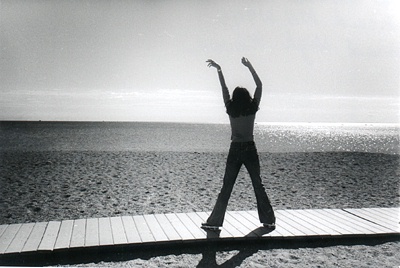 © Colleen F., Marblehead, MA