Six Feet Under and Seven Feet Wide
January 18, 2010
Summer is supposed to be the worry free time in a high school student's life. No school, worry free for two whole months. I had the normal plans this summer: playing softball with my best friends, playing my new guitar, going out of town, swimming, tan, hanging out with friends, and texting. I was planning on doing pretty much what every other teenager would do with their summer. This summer I was on the edge of my seat the last week of school. As soon as finals were over, I was done with school. I had about one week that was fantastic. It was the best week of my summer. That second Friday, my close friend, Johnny, who practically was my brother, wanted to go to Wisconsin. He needed to help his father with his friend. He stayed up there an extra night to see a horse race. He had decided to just bet on one horse, and that horse won. He was so happy when he called me. I still hear his voice, "Kylee! I just won off of one bet, the only bet I placed. I won money Kylee! I am so happy, I'm gunna take you, and Ricky for dinner as soon as I get back!" 'He comes back tomorrow' I thought. I was looking forward to dinner Sunday night. I cancelled plans for it too. I got my clothes set for our favorite restaurant, Olive Garden. Free food, my favorite words together, kept on coming in and out of my head like a Jack in the Box.
That night was the best sleep I had in awhile. I have never had another one like it since. Life, I felt was not going to turn south, at least for while. That while was later found out to be right around the corner. I had a dream about Olive Garden's wonderful breadsticks that night, it was delectable. I woke up at about 11:30 a.m. My dad had already left for church. I finally stumbled out of my kingdom to get my phone. Without realizing, the fact, that I was about to set off a bomb that would explode news so bad I can't see through my eyes form tears. I notice something unusual, I have over: 37 text messages, 71 missed calls, and 11 voice mails. People I never talk to anymore called, close friends, best friends, parents, teachers I have had, everyone I knew. I was starting to finally worry. I open my inbox, not knowing I was about to cut the red wire instead of the blue to my personal bomb. Everything I saw, read; "Johnny died last night!" I didn't believe it, I was so shocked. I needed to make sure it was for sure. I call my voice mail. Everything the same again, "Kylee answer your phone, Johnny is dead, call me back ASAP." I immediately broke down. I felt like the girl in the old movies tied to the train tracks but instead, my hero never comes. A piece of my heart died that day. My life is just falling down hill and I'm being pushed faster and faster down each second. I went on the computer to double check if it was true. It was. I was crushed. I couldn't move, I felt numb. I missed him towering over me over a foot over my head, his loving personality and "The Beast"; the car he drove. My dad came home to find me just curled up on my bed. I said nothing. The only noise in the house was my runny nose, breathes, and phone buzzing next to me. My dad had known something was wrong, I was crying and not looking at my phone. He comes over. I say nothing still. He took my phone looked at one message, dropped my phone and holds me. I never have had my dad hug me for so long; whispers of "I'm so sorry"', "Breathe", "You're alright" inside my ear. I just sit. I can't open my eyes to face reality. Wish upon wish, hoping this is a horrible dream. I made my father drive me to Ricky's. He did. I do the same thing I just cried like I did at my dad's at Ricky's. I am still speechless. I have a bracelet that I wear everyday to always have something to remember him by. June 14, 2009, I will never take off my "Dates to Remember" in my mind.


People found out about Johnny. It was everywhere; newspapers, on the news, on Facebook , in my mind, on my phone, Myspace, and every other thing I look at on a normal day. Pain every time I look at something because Johnny somehow is linked. Whatever I did or saw would deal with him. I would be talking to people I just met in Norridge, by my dad's house, and they would even ask about him. "Oh, you're from over there? Did you know that Johnny kid? How did it happen?" I would hear all the time. People I barely knew, I saw at his funeral, people I never met there. There are tons of people there, I never knew he knew so many people. I knew he knew a lot of people, but not that many. It was amazing just seeing everyone who was affected by his death. Everyone even if they hated each other they found a way to put it all behind them to help one another.

His death still gets me choked up when I talk about it. The bracelet I have along with his closest friends, really helps me. I have it every day, so I will not forget how he touched my heart and everyone he knew. It made me truly start living my life. Now, I am living my life with my eyes wide open. Johnny showed me how to open my eyes by watching him live his. He taught me how you should live your life, free. Johnny would always tell me always forgive someone; they may die thinking you hate them. I stand by that, I may be mad at someone but I forgive them easy. I learned from his life and death. I need to thank him for making me open my eyes and paint the portrait of life, with my colors. He made me realize there's more to life then what you see.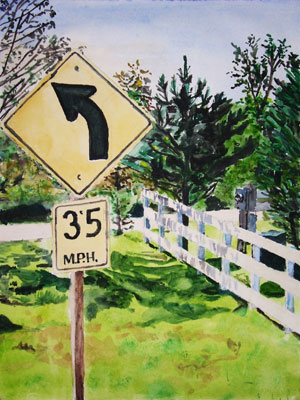 © Tim K., La Crosse, WI