The Accident
January 15, 2010
When you're lying in a totalled car on the side of the road in the the middle of the night,
a change takes place in your mind. The importance of your senior year that you've worked so hard to perfect fades away slowly, into the darkness that surrounds you. Suddenly a gpa doesn't seem that important anymore. The numbers fade into a whirlwind of others, all alike in appearence but the distinctions of the newest group are of grave importance. These numbers, represent far more than a test ever could. These are the numbers of the people you've loved, the places you've been, the things you've still yet to do. These are the infitnite numbers.

You know, it's not true, what they say. In a moment of danger, your life doesn't really flash before your eyes. Well, at least for me it didn't, the night I got into a car crash, leaving me in a wheel chair for two months with a broken pelvis. That part came later. Your mind, slips into a subconcious fog, where everything you've wanted to achieve slowly dissolves into what very possibly might never become a reality. It's hard to explain to someone just how difficult it is, to sit alone in that situation, not knowing if you'll come out alive, when the only thing you ARE positive of, is that you are not ready to finish your life. I make light of the situation with friends, to show them I'm strong, what else can you do, really? But to be vulnerable again, to feel like I'm alone in that car for just one more second, takes the greatest strength of all. My chances of college, age, and life felt as though they were falling out of reach, just I was falling out of consciousness. But just as my own spirit began to fade, someone else's pulled me back. A stranger, talking me back to life, telling me to hold on. It was then that the movie of my life began to play.

Fade in, on a girl, who knew she wanted to make a change.
She wanted to be the first in her family to go to college. She wanted to lead, and to make a difference in people's lives. She wanted to read and write, expressing herself in those ways for a living, she wanted to experience the world and all the wonders it have to offer. While I starred in this movie, I saw it as though I was floating over head, so blessed to see the story unfold before my eyes one last time.
This girl, cunning, determined, had made her way through three years in the AVID College Prep Program holding leadership postitions for two years. She had joined another family, her high school Chorus, escalting from being elected Historian sophomore year, to President-Elect as a junior, to her dream of President as a senior. She was also a part of a student lead A'capella ensemble for three years, two of which she had been elected as a co-leader. The music was just another outlet of her soul, that in present time, was slowly slipping away, as the minutes in the darkness dragged on. Countless clubs, meant countless people, passing in and out of her life As she gave a bit of her heart to each one, the numbers grew larger. Her accomplishments were present, but all seemed like a gateway, to the immeasurable opportunities that were waiting for her, if only the darkness would end.

"What's your name?" The movie stopped. Haulted, by the voice of a stranger. No sooner did I feel the warm, blood filled hand, that touched my still, chilling hand, like an anchor on my depleting being. "Rachel", I answered, "My name is Rachel." "Well Rachel, my name is Greg and I'm here to tell you, that tonight is NOT the night you are going to let go. Tonight, you will hold to my hand and you will make it through this." As those words slipped into the darkness of my mind, what I would now call, my in between, I expected the movie to start again. But it didn't. It was more like a trailer. My hopes and dreams, my life at college, my family, my friends, all coming true, before my eyes, with a hint of suspense and mystery as any good trailer would have. As it ended, I found myself talking to Greg, holding his hand, as I told him about my life. I haven't been able to find him, since the accident, to thank him, for saving me. But I know that by accomplishing what I set out to do, he'll feel my gratitude, like a touch of our hands.

Fade out, on me. Who am I? The girl, who is no longer on the side of the road, alone in the dark. The girl who held on, if just for one more chance, to change her life. Rachel, I answer. My name, is Rachel.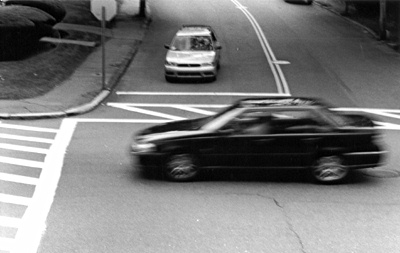 © Ed J., Marblehead, MA