The Ultimate Kamp Expirience
January 15, 2010
I was at kamp Kanakuk, and I was really excited to begin the adventure that I was looking forward to all year. Although it was a Christian kamp, I mainly went there for the activities and proving myself at them and didn't really focus too much on the worship and praise. I immediately ran to get my schedule, and water skiing was my first class, "Yes!" I said. I ran straight down to the docks and put on my oversized life jacket. A group of boys that I had met previously, and I got into the first boat we saw. We quickly took off and I was beaming with excitement. I asked if I could be the first one in, and the driver said, "Sure." As I was about to jump in, I noticed the water seemed extremely choppy but didn't think twice about it. The cold lake water was like an icy hole inviting me to jump in. As I splashed down into the water, my body heat must have dropped thirty percent. The driver tossed me the kneeboard and the ski rope. I got hooked in and gave him the ok. The wind was rushing through my hair as the cool, blue water rushed aimlessly below me. I was going about twenty miles per hour and kept wanting to go faster. As I reached about fifty miles per hour I saw a big wake coming towards me. Time immediately slowed. "Oh God!" I thought to my self. I launched up and suddenly my mind went blank.
The next thing I knew I was climbing into the boat with the worst headache of my life. The pain was excruciating, tears were streaming down my face. It felt as if some one had attempted to chop my head off. All of a sudden I start phasing in and out of consciousness. The waves of the lake were like a swirling roller coaster, bobbing up and down, side-to-side. The boat driver immediately rushed me back to the docks where a well-used golf cart was waiting to bring me up to the nurse's station. My mind was rushing with thoughts, hoping I hadn't injured myself and that this was a bad dream.
The ride up in the golf cart lasted for what seemed like long excruciating hours. The counselors rushed me in, and the nurses proceeded to insert I.V.'s into my hand and arms. The nurse's ended up messing up on the I.V. in my hand. My hand was completely numb for hours due to the internal bleeding. I Then they hooked me up to an AED to check my vital signs, in the case that I went into cardiac arrest. The fear shook in me violently. I did not want to be hooked up to the AED for fear that I would be shocked. I could not imagine having 1000 volts coursing through my body. After being in severe trauma shock for several minutes I started severely shivering. I felt cold, very cold, and started saying silent prayers in hope that I would be healed. After inserting the misplaced I.V.'s, the nurses inserted cold tubes into my nose and put me on oxygen due to my shallow breathing. The oxygen was like a life-blood of energy flowing into me. They started poking me with sharp needles to see if I could sense pain in my arms and legs. I was still going in and out of consciousness, so I could barely respond to them, my mind was like a swirling toilet, thoughts were flying through my mind too fast for me to hold on to them. I kept wanting to see my sister to see if she was ok and started wondering how I had gotten here; I could not think straight. Suddenly, in the distance I could barely hear the nurses calling 911,"Hi, we have a child here with severe head and neck trauma with possible spinal injury, he needs to be immediately flown to a level 1 trauma center." My heart sunk when I heard that, because I had never been hurt enough to go to a hospital before. I was scared and confused out of my mind.
Fifteen minutes later, the paramedics arrived. They walked into the room I was in, carrying a spine board and various other medical equipment. It took all the nurses' and Paramedics strength to lift me onto the hard, cold spine board. The paramedics carried me out and placed me onto the yellow, Stryker stretcher. Since the Medivac helicopter couldn't land close to the nurses' station, an ambulance drove me up to the camp's football field. On the very painfully bumpy way up, the paramedics inserted an eighteen gauge I.V. into my arm, which made me pass out from the pain. "He's out!" said one of the paramedics. The I.V. felt as if they inserted a banana into my arm. A sharp pain shot through my arm as the medicine healed its way up. I was still thinking about my sister and wanting to see her. For some reason, I thought she was the one hurt and not me; I could not get back into reality. Once we arrived, they lifted the stretcher from the cool, clean ambulance and gently pulled me over to the awaiting helicopter. As the paramedics pulled me over I saw our camp director walking up to me. "You'll be ok," he said, "you're doing fine." Yet I knew in the back of my mind that this ordeal would leave me with mental and physical damage. The exhaust from the chopper blew harshly down at me as the paramedics lifted me in. "Hi. My name is Sammy," said the paramedic once we were inside. I replied with a half-conscious, "Hi."
They life-flighted me from little, old Lampey, Missouri, to the level 1 trauma center in St. John's hospital in Springfield. When we landed, they rushed me into the ER and proceeded to hook me up to an ECG, SpO2 monitor, and a blood pressure cuff. Afterwards, the ER nurses gave me an X-Ray, CT scan, and an MRI. The X-Ray went smoothly and painlessly. As I waited to be wheeled into the CT scan room, I suddenly had a really bad craving for cornbread. Nobody warned me about the MRI. By this time, I had become fully conscious, and I was really focused on what I would get to eat once I was out. As the nurses wheeled me into the large doughnut-looking machine, they told me it would last about forty-five minutes. That's when I was filled with dread. It's almost impossible for me to stay perfectly still for even ten minutes. When they turned on the 'doughnut hole of death' loud noises started playing. The 'noises' were the loud frequencies of an electromagnetic current coursing through my body. As the machine ran its course I began saying many silent prayers. "Dear God, please help me to get through this horrible experience without much damage, and Lord I pray that you will heal me so I can go back to kamp and praise your name." Forty-five excruciating minutes later it was finally over.
Just as they were wheeling me back into the ER room I saw my parents. They had left directly from the movie theatre that they were in, and got a direct flight into Springfield. I was so happy to see them, and surprisingly my mom was not an emotional wreck. I was so grateful that the Lord had blessed my parents with the resources they needed to get to me quickly. Three hours later, the trauma surgeon walked in and told me I was good to go. My heart leaped with joy, and I knew this could've been much worse and that God had his protective hand over me the whole time. He also told me to not do anything too physically active, or anything that involves the head. I was given the discharge papers, and as I attempted to get up, I immediately fell down. The floor and I met with a hard and brain rattling crash. The nurses came running back in, checked me out, and put me in a wheelchair. As I was wheeled out to the small rental car, I couldn't wait to get back to kamp and focus more on praising the Lord for the miracle he had just performed, and less at proving myself at everything I did.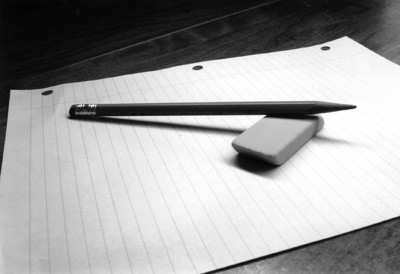 © Michael H., Mildford, CT