The Worst Two Months
January 15, 2010
I was at a Christian camp and my mindset was changing from when I was at home in Houston. Deer Creek Adventure Camp was very different because it was in the country, no cell phones, no Internet, no video games, and no technology. We were all alone in these miraculous outdoors. The main thing that changed me was that just three days before I was in this horrible position. I was crying at my recital because I felt God take one more very important figure away from me once again. I will never be able to understand why He yanked Mr. Rogelio, Abuelita and Henry away from me so harshly and in just two months. I will forever ask, "Did I do something to deserve this? Why is this happening to us? Why did God do this to us? Is God trying to punish me? Are they in heaven?"
Tearing up, I thought of the when she was taken from my family, her friends, and me. Abuelita, also known as Sabina, was an adorable, typical Mexican, grey-haired, ninety-five-year-old lady, and an amazingly funny great grandmother to me. She seemed like she was a little kid sometimes because she was very lively and playful. I remember one day when we were in the elevator filled with mirrors. She was behind me, towards the mirrors, and when she knew I wasn't paying attention, she picked up her cane and tapped me lightly in the rear end. When I looked back at her, as a natural reaction, she looked away as if she had never moved even an inch of her body. I thought it was hilarious, but since she could be almost a hundred years old, it was crazy that she acted like a five year old in many ways. Still, I was crying hysterically in the bed, although these tears, might have been those happy tears that have been missing throughout these past couple of months. That was probably one of the worst month of May in my whole entire existence! My Abuelita, my great grandmother, was gone and I could do nothing to bring her back. I miss her so much.
Naturally, I start crying even harder. When my newest friends, Greta and Savannah, heard me uncontrollably crying, they came to my bed and hugged me. They left from the side of my bed as I pushed them away from me as I knew that I could not be around any living, emotional person, because I would burst like a bomb with two seconds left on its timer. Eventually, I calmed down a little bit and I started thinking about my dog, or my old dog for that matter. Still to this day, I blame Storm, my mom's difficult ex-boyfriend, for making my puppy, Henry, run away and never finding him again. Henry was a great dog, whom I got as a present from my mom when I was seven-years-old. I did not like it when he went to the restroom in the apartment, when he growled at me, or chose to protect my mom over me, but I love him. I was not at the house when it happened, and if I were, he would still be taking up all of our love. I have never gotten the details of what exactly happened, or why he was let out the house, but I do not care anymore. He is gone and that is all that matters. I miss him more than anyone could imagine. He was the best dog I could have had, and no other pet could take his place. As I became more emotional I realized that I had to be the one to hold up the emotional baggage for my mom when it came to Henry, and now was my time to release it all.
It is crazy how one bad and upsetting thought led to another, because now I really started thinking about my instructor, the owner of the studio I attend for dance classes. He was an incredible flamenco dancer, and he was known for it, too, in many places of the world. Mr. Rogelio danced ballet, flamenco, Mexican folkloric, and also jazz; he was pretty well rounded. He made flamenco what it was at the studio: an intense lifestyle. His faith in our performance reflected his true character. Mr. Rogelio Rodriguez was more full of life than any other dancer I have ever known. He could joke around and play around all the time. He would call me the funniest name that is hard to write on paper. He would say, "Christina Christiiina, my girl you are beautiful." He would say that when I would walk up to his desk. Also, he was one person in my life that I could always count on to make me laugh when I was plain old grumpy. Mr. Rogelio was simply an eager and enthusiastic creature; he could make Frankenstein smile. He danced since he was in elementary school. Mr. Rogelio was always sick of something. He was always concerned about his heart because of a mild heart attack that occurred a while ago. Mr. Rogelio was always sick of something. In the end he had to breathe out of an oxygen tank because one of the problems was that he had emphazema. On the morning of June 20th, and at the age of sixty-six he died. It was just the morning before our June recital. He missed watching me this past summer in all my advanced classes. It is too bad he could not watch everyone, including me, become great dancers like he knew we would. I hate that he missed it, but it will be okay. At some moments of his life, he annoyed me because he always made fun of me, but now I realize that he just wanted for my experiences to be fun and lively the way he was and the way he lived. He was the most important dance mentor to me and I hate that he was taken away.
In everyone's life, something important that they have is taken for granted. In my case, it was the simple fact that I could not understand the particular importance of those three figures in my life. Abuelita was a vivacious old woman, Henry was a calm, protective dog, and Rogelio was an upbeat older man. Unfortunately for me, I did not understand why they were put into my life until they were taken out so quickly. Now, I realize how important each person was in my life. I am barely able to write about them. I am still extremely emotional, but if I were not, then something would be wrong. The one thing I think about now are the lessons that not many fourteen year olds know, so for that, I consider myself lucky. My friends, family and especially my grandparents, Margarita and Ron, all have experienced very hard times in their lives. What they told me was, "All you have to remember is they are always with you, no matter where you go."
Finally, my tears started to slow down, but then picked back up again. Now my full head was drenched. I could never imagine what it would be like to not have the three of them with me every second of my day. I wanted them to be with me forever, and they are. They are permanently tattooed in my heart. Looks like I do not need to use real ink for it to be visible to everyone in the world. Now I know that those thoughts about physically being with me forever were unrealistic, but everyone dreams about something, especially that something that they cannot have.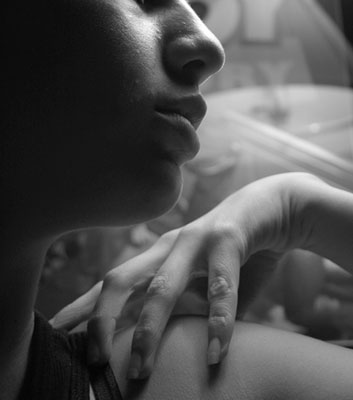 © Rebecca B., Santa Clara, CA