Footprints
January 6, 2010
Feathery snow is swaying in the breeze; it drifts back and forth until it makes a ladybug-whisper landing. I gaze longingly out the glass panes. Seeing footprints in the fresh, fallen snow makes me jealous of the free strangers who put them there. I am the one stuck in boxes all day. I'm wasting my time. Sitting in this classroom is totally pointless. The middle of the school year is drudgery; it drags you down like frozen mud and you're stuck there from day-in to day-out. Right now, January seems too dull to smile, too monotonous to enjoy. I feel bogged down.
BEEEEP! The tone sounds. That bell that herds me from box to box is finally setting me free. My negative train of thought ends as I get swept up in after school rush hour. What classes do I have homework in?...Does she still like that kid?...Ewwww!...Avoid that hallway as much as possible....Who invented drinking fountains?...My shoe is untied...Where's Rhett?...I'm hungry. As I hit fresh air and flurries at the doorway, my head makes a split-second decision. I'm sick of being cooped up all day just to drive home to do homework or go to my minimum wage job. Not today. I miss the good old middle school days when I actually had to walk home. That was back when boredom existed by the truckloads and there was nothing better to do than take a walk. I'm going to have Rhett take the car home and walk through the snow storm.
Rhett, my older brother, thinks I'm crazy. "What are you thinking? You don't even have a coat. You're going to get frostbite. Don't be such a romantic. Are you even listening to me? Okay, fine, do what you want, but the storm is getting worse." As I am walking off he gives it one last jab. "You're crazy!" What a worry wart. He revs up the car and takes off. Now I'm alone with the weather. I'm in my own little winter wonderland. As that little tune buzzes off my lips, the snow keeps falling.
Snow is coming so thick that it piles on my eyelashes and my shoes make mini snowballs as I scoot along. I just discovered sucking snowflakes. It's way better than catching one on my tongue. I suck another one in. The minty microscopic slush explosion, ice web and cold air, is so refreshing.
I look back and notice a trail of footprints. It meanders, but there is only one set; they are all alone. They must belong to me; it seems intriguingly bittersweet. The pattern on the bottom of my shoe, checker and stripes, stamp in and leave an inky mark on the cold, blank sheet layed out before me. Now I feel guilty; I messed up the unblemished paper. Then I think, someone had to make to first mark. Those ink marks form into words and ideas and lives. Ink is what makes the paper meaningful. Now I feel self-satisfaction because I know that no one has yet to venture on this pure, blanketed ground to write the first story. The snow keeps falling.
I guess everyone else isn't as crazy as me. Cars keep driving by. Several different people I know roll to a stop and offer me rides. After I convince them that I actually brought this upon myself and politely refuse they shake their heads and drive away; they don't know the whispers of joy that are implanted in winter. Rhett glides in along side me. I can barely see his face from the sidewalk through all the falling flakes. Yes - I enjoy being freezing cold. No - I still haven't changed my mind. Yes - I know I'm crazy. The snow keeps falling. He too gives up with an exasperated shake of his head.
I'm alone again. Alone with my thoughts. I sort through the mass of topics that require my attention swirling around in my brain. I stress over schoolwork. I recall conversation throughout the day. I visualize how people would react in certain situations. Life is not overwhelming when I'm left alone with my brain to manage my internal chaos. I categorize and sift through the mess of thoughts. Right now, as I'm going through this process, it hits me. The reason for all my negativity towards school is because of what has been going on at home. I finally have a quiet moment to mull over my family problems. I can't seem to talk to anyone in my family anymore. With such a busy schedule, I never see them and I can feel it straining on the relationship ties that hang there by a thread. The snow keeps falling.
Although my thoughts have been turning inward, realization hits that it is actually cold. I am stuck without protection with a fifteen minute walk or more to go. I can't feel anything. My nose, my ears, my toes, my arms, and my legs are all completely numb. It is as if I have been in a fuzzy dream where snow is piling in soft, cushion pillows and now I wake up into cold cutting ice and howling wind reality. I am now officially a popsicle. What was I thinking? It's not fun to walk home in a snowstorm! I'm lecturing myself for acting on such a stupid idea. The snow keeps falling. My thoughts turn irrational. What if I die out here? Would anybody be able to find me? They could follow the footprints. The footprints; I almost forgot.
I glance at the ground and notice that in this spot there are many others besides myself that have made their mark. There is a lot of them now. One set is standing out from the others. They're a little kid size; the sole design tells me it's a boy. I place my feet where he had placed his and pretend to be someone else. The set cuts across a field all by itself. In some places he must have drug his feet because here there is huge streaks; as if a cross country skiier came through. Now the footsteps widen so he must've ran. Here he stopped for company to hug a tree. Here he spun in circles until he got dizzy and fell over, leaving a snowangel. I feel like a tracker, hunting down a story.
I visualize the owner of the footprints. A little boy walking home alone, enjoying nature as much as I am. I wonder if it entered his mind that someone might follow him and imagine who had gone before. Absorbing the trail, I become totally lost in excitement. I forget I'm cold, that I have things to do, and that I have to go home. Someone besides me is telling their story, and I tuck my problems away and listen and infer and relate. I also grow to love the little trailblazer.

I am so concentrated on his story that I don't know where I am going. Looking up, I notice I'm a block away from my house. Oh well. The footprints call and I willingly follow. Instead of veering away from my home as I expected, they head right into our cul-de-sac. It must be a neighbor kid; there sure is plenty of them around. My trail continues. I get closer and closer to my house with each footfall that matches the trail I'm following. Next thing I know I'm on my front porch and step-by-step through the front door. The snow keeps falling. I shut the door and block out cold behind me.
I stand in the entry way next to a pile of sopping winter clothes, recently shed. The melting coat, gloves, and boots belong to my little brother. He plods around the corner out of his bedroom in stocking feet with rosy cheeks and a runny nose. "Sarah, can you make me some hot chocolate?" he sniffs, " I had to walk all the way home by myself today."

Realization hits me so hard that I'm dizzy. The lightbulb clicks on. The key unravels the locked door I've been so intently picking at. It feels like actually comprehending Algebra for the first time. The complicated formulas of life are really simple and controllable. Here is the story. Here is the kid who I followed and grew to love; it turns out, I already did.

I sit with my little brother over a steaming mug and chat. It feels like I'm meeting him for the first time. Or maybe it's that I've been away for years and I get to finally see him again. We rediscover each other, and the snow keeps falling.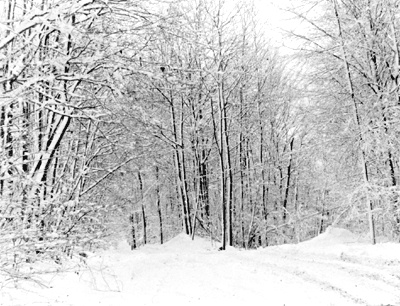 © Thomas S., Portville, NY