5 pictures
January 5, 2010
First day of school after I moved from Dallas to Austin. Walking with my head down, when I finally have the strength to pick up my head for a moment everything changed. I saw him standing there strong with brown eyes. Couldn't focused so many details the wavy dark brown hair. Super confident not scared of rejections. After a while standing like a statue I hurried to go to class when he stop me and ask if I was new to school knowing that I was going to answer to anything he asked stand there strong on the cloudy rainy that made my day worst couldn't wait for that Friday to be over.
Friends for a year I knew him more then anybody in the whole school. But the last thing that I didn't know that this person that I had talked to was actually related to me. Feel even happier that I was related to him knowing that I had one of the biggest secrets to tell him not knowing how he would react. I told him that I had a confection to make and I saw him standing in the front of me so confuse on the sunny day after a big walk almost getting home. He demanded for me to tell him. I stood up and told him "I'm gay." He looked very confused . couldn't even talked he was in shock. After 15 minutes confuse answer with many question with the how, when, why??? If I had a girlfriend how was this possible looked and stared and walked away discussed as I though.
Nervous, to be lonely in high school. First day two big yellow doors were standing upon me was so scared that I wouldn't have anybody in life to be with and share my memories because in middle school I invested all my time with him. Took deep breath and open the door, that moment God hurt me and there he was again. So embarrassed I try to walk away from him. He run after me and ask me why was I trying to avoid him. I looked down and told him not to talked to me. He struggled for many minutes to get the words of his mouth when he finally told me that he was discussed by people my way, but that he was willing to do what it takes because gay or not we were going to be family no matter was so we rather make the best of it. I knew he mean what he said, but still he looked so confuse. I knew that question on his mind after all that was weather he was going to hug me and just walked away?
Super gray clouds whiled I walk towards school anxious to get to school and leave the very violet streets that I walking throw. Just three minutes away from school knowing that I had made it without being embarrassed because I was gay. Just as I claimed victory there I saw coming a truck with guys. All started screaming many hurting words. I arrived to school with my eyes cover in tears he saw me crying while he was very mad. I didn't know what else to do when he finally grab me by the hand and took me with him. We found the guys and he had a hold of one of the guys then the anger became punches.
After the long weekend I had he called me. Friday night did not wanted to talked to him specially after the words he said that hurt so much. The strong words that he told me hurt so much because that was the first time that he had ever told me something like that and we had so much trust on me. He called me so many times, but I wouldn't answer because I had my feelings hurt so much. I finally gave in and answered the phone. I scream with so much anger and demanded to tell me the reason he is calling me for. He was quiet and didn't know what to tell me after some long 3 minutes. Then he cried to me telling me that he didn't wanted anything to go that far all he really wanted to say was that he wasn't ready for me to go all the way with the feminine thing. He told me that he loved me the way I was and if he had a chance to change it he wouldn't no matter what.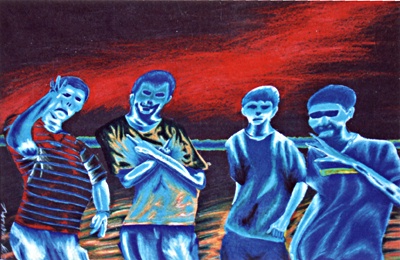 © Troy W., Kannapolis, NC