The Big Gulp
January 11, 2010
In a shambolic manner, I was dropping my clothes and my other possessions in my suitcase. I was super excited to go to my 6th grade trip, especially because we didn't have to do any schoolwork. Getting on the bus to head the way to Mo Ranch, I was hoping that this wouldn't be a five hour long ride, because I get carsick exceedingly easily. Two hours along the ride we came across tons of hills. I felt the rapid movements, going up and down. Passing by the woods, I was feeling like I was in the middle of nowhere. I was already feeling queasy and a little overwhelmed while I haven't even arrived at the camp. Arriving at the camp, I already see tons of rope courses. In my mind I'm thinking," Oh boy. I hope that I won't be pressured into doing this." So, the first day we ended up going to the place I least wanted to go, the rope courses. I am already bilious, and now I'm more nervous.

A while back, I have gone through an experience like this, except it was at a different camp. The camp was called the Outdoor School. The camp of course had ropes courses. One of the ropes courses they had was the rock wall. Everyone as expected climbed on the rock wall, but me. The trip was ghastly. Everyone was pressuring me to do something I was afraid of and I couldn't make myself climb that rock wall. Leaving the Outdoor School, I left in remorse. One of the worst feelings I've had in my life
was feeling the regret. I did not want to leave Mo Ranch, again feeling in regret of not doing something I know I can do but am too afraid to do so.

Surrounded by my classmates, many of them geared up for the course. I tell my friend Sarah," I don't know if I am going to do this Big Gulp. It's super high up."

Sarah replies, "Don't worry! You'll be fine. You will be securely harnessed. Nothing is going to happen."

After everyone's turn is over, it all ends with me. Pressure and tension is building up inside of me, not something I was anticipating. Thoughts of fear were flowing in my mind. My anxiety got even worse when my friends kept telling me," Don't be scared." Deep in my heart though, I felt scared. I was scared that my life was going to flash before my eyes. After all of my friend's comments, I kept thinking, " I have to do this." If not, all of my friends would be extremely disappointed in me, that is the last thing I want along with the regret of not doing the Big Gulp.
I walked to the ladder and the instructor geared me up accordingly. My heart was pounding. When the guy told me I was set, I was apprehensive. I climbed the ladder and was being pulled high off the ground. I hung there beside the pole. From high above, I could see my classmates as tiny as dolls. I saw green trees covering the land on a bright sunny day. Below me were tons of rocks. Within me lies my fear. The course was basically to let go of an orange rope, which would release you to swing high off above the ground. It is like the swings one sees in the park except with no seat, a horrible wedgie, and being really high up in the air. Being up there next to the pole, I was instructed to let go of the orange rope when I was ready, and swing.
I held the rough orange rope in my hands. Butterflies felt like they were in my stomach by the millions. The great load of rocks below me was the least bit consoling.
In my head I kept repeating what Sarah had told me," Nothing is going to happen." High up in the air with the rope in my hands, I stuttered for a moment. Deep in my heart, I wanted to let go of the rope, but my fear was the part that blocked my desire. But I released the rope, and let loose. Closing my eyes, holding on to the rope as tightly as I can, I swung. The feeling in my stomach was like when I'm going down a tall hill quickly in a car. Then swing after swing, the ride became less frightening and actually became kind of fun.
After the ride, I was extremely flabbergasted. The ride was not as bad as I thought it would be. It was actually quite enjoyable. I was glad that I finally conquered my fear, my fear of heights. So at the end of the trip, I was so happy and left with no regrets of not going on the Big Gulp. I would never in my life imagine doing the something like the Big Gulp, ever.
Another year I went to two camps. They were T-Bar-M and Carolina Creek Christian Camp. These camps as expected had ropes courses; rock climbing, and the zip line. Well, the last time I had encountered a rock wall was when I chickened out at the Outdoor School. The zip line was something I had never done either, but I have seen it before, and I have always been quite fearful to ride on it. But this time, for the rock wall
and for the zip line, I was feeling ambitious to get on those rope courses, especially the rock wall since last time my fear kept me from doing what could have been a congenial experience. I made sure that would not happen again. I harnessed and prepared
myself for the rock wall. I climbed up that wall, with my friends cheering me on.

Grabbing the rocks, climbing that wall, I was not fearful anymore. I felt proud of myself, for conquering my fear, and again doing something that I would before never
consider doing. Going up that wall, it was not as bad as I thought it would be when I was at the Outdoor School. I harnessed myself for the zip line at Carolina Creek Christian Camp. This was loftier than the rock wall, but when I was determined to do it. I was high up, and what you had to do was jump of the edge and just ride along the rope. I jumped off, not fearful. I noticed I really did change because after the zip line, I wanted to again and again. The fact that I wanted to go on that zip line multiple times proved that I had really conquered my fear. I no longer judge rope courses like the Big Gulp over their height. I don't let the height of something interfere with my decision to do a rope course. Before the Big Gulp I was afraid of heights and I would never do anything that involved being high up, but after the Big Gulp I was not afraid and started participating high up ropes courses, and I actually enjoyed them.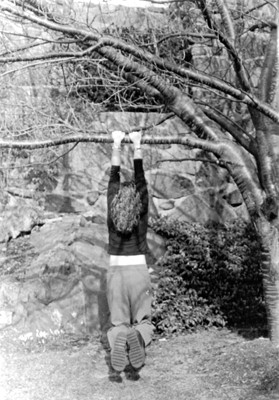 © Stephanie F., Marblehead, MA