My Grandma's Funeral
December 16, 2009
I went to my Grandma's funeral at St. Luke's Episcopal Church on the last Friday of November. It's self-explanatory why I went: I went to pay respect to my Grandma. For the first hour of the service, we were in the church commons: which were familiar to me because they were always the setting of my Sunday school lessons when I was younger, and also where I got in the most trouble (for throwing things and yelling at the older boys). My grandma lay in a silver casket in front of the sliding glass door to the playground. I sat at a cheap sienna-colored, plastic covered table and remembered sitting in that exact spot 13 years ago and gluing cotton balls onto my badly drawn sheep. My aunts, father, mother, distant cousins, and a few girls I used to play with after Sunday school were all there; along with dozens of other people that either looked familiar to me, or I had never met in my life.

I sat and drank coffee, my Dad opening doors and windows in order to air out the sewer gas smell that came from the clogged sink in the kitchen. People kept coming over to me and apologizing for my loss. I know it's polite, but I don't understand why they are sorry. They didn't kill my Grandma; A stroke did. There were lots of colorful flowers throughout the room; which made me happy because my Grandma would have liked that. She always loved gardening. I made my way around the room, talking to my aunts' friends, until I was sitting by my mom again. We sat there a while, our stomachs growling, then my Dad came over with a nervous looking woman. Her name was Natalie: She was my Dad's new girlfriend, and he for some reason thought he should introduce her to my mom: his ex-wife.

"I'm sorry for your loss," she said, shaking my mom's hand and avoiding eye contact at all cost. I could tell that both women were very uncomfortable. Then, she and my dad went back to the other side of the room where they were before. Shortly afterward, we went into the chapel. Since we were the family, my brother, dad, aunts, uncle, cousins, mom, and I sat in the first two pews. My aunt Stacy handed me two prayer books, like old times and I set them by my side. I didn't really want to follow along, but I opened it to the first song and followed along anyway. Although, I did not sing.

Then, Father Bill, the Pastor of St. Luke's since I was 5, preached about how good of a Christian my Grandma was and how she was in heaven with God and Jesus. He also mentioned becoming a born-again Christian a lot, and I for some paranoid reason felt that my aunt may have asked him to say that for her "Atheist" niece and nephew's sakes, so that kind of made me feel very uncomfortable. Then, there was communion at the alter and I went up and put my palms out like I was taught during my first communion when we made that bread and drew a cross on it with our fingers. The body of Christ still tasted like cardboard, and the blood still tasted like watered down red wine. Then, the service was over and we went to the cemetery to bury my grandma.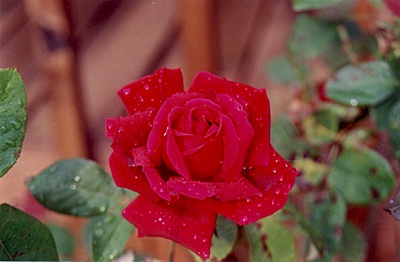 © Jami U., West Hempstead, NY