Hawaii
December 8, 2009
"Ah!" I gasped, freezing in misstep in the middle of my hula class as the muscles in my left calf twisted and churned, pushing any previous thoughts from my mind - replaced with a mind numbing pain. Limping through rows of dancers, I crumpled onto floor next to Kay, another dancer, and gingerly began massaging my leg. "Cramp?" Kay asked, and when I moaned in reply she added, "You'd better sit out the rest of the class." The truth was, I would not have needed to sit out the rest of the class if I had not been so devoted to my art, but for the past six years, hula had become so essential that it was akin to breathing. Dancing everywhere at anytime, I practiced verse after verse until my thighs burned, sweat soaked through my shirt, and my knees were splotched blue and purple from bruising. While I danced the world around me fell away, all that mattered was the dance as it flowed through me telling of the sharp cliffs of Kaua'i and the fiery eruptions from Kilauea. Although I understood these stories and places on a deep unarticulated level, I longed to travel to Hawai'i to smell the sweet, intoxicating plumaria, to hear the waves crash against the shore, and to bring words to this part of myself that had lain dormant for so many years.


Although there was only a week before our trip to Hawai'i, my excitement and anticipation stretched every minute of every day until I thought it would never end. On the eve of our flight, excitement radiated from me, my hands jittered without warning and my mind buzzed like a hive of busy bees. After passing through customs, I waited in line with my family, hauling our carry-on bags with us through the small walkway whose walls contracted and inflated like a giant accordion, and into our seats. Once the plane lifted off I pressed my forehead against the tiny window, as Seattle, my familiar home disappeared under blankets of clouds. "Please fasten your seat-belts and fold your tables up, we'll be landing in just a few minutes," the pilot announces through the intercom five hours later, passengers around me quickly stow their belongs away; a young girl ahead of me tugs on her Mom's sleeve, "Mama, is it over? Are we there?" Her mother pulls the girl closer so their heads are squished together, points out the window and replies, "Yes we're here, look you can see the island!"
"Yes," I echoed silently to myself as our plane descended, "We're here".


After climbing out of my Uncle Jim's mammoth truck onto his driveway, and unloaded our baggage, my aunt Bridget lead us on a tour of their house. "This is the kitchen… and over here is the living room," Bridget points out as we meander through. Every wall is painted a deep bold color, and the light that shines off the tile floor is all natural. Following the river of stone that snakes through the main room floor, we walk on to the patio. Soft sounds of water can be heard from a stream somewhere down below, and gentle breezes bring scents of flowers and vegetation, as though the trees themselves were sighing. Looking out from the patio I can see a mountain, whose sharp cliffs, striking even at this distance, are blanketed in green and frosted in clouds. "I'm sure I've danced about that mountain," I think to myself before drifting off to sleep, dreaming about what the next day will bring.


"Okay, how do you put these things on?" my Mom said as she exasperatedly shoves her foot into a flipper, sending a wave of saltwater in the opposite direction. Sprawled out on the beach we grappled with rubber flippers that simply didn't care to adhere to human extremities, before waddling like penguins into the water. After initially breathing in several mouthfuls of saltwater, I lowered my head beneath the surface revealing a new world below. Swimming slowly through the temperate waters, I watched schools of fish go about their everyday routines. A school of angelfish swam past me, away from a group of loud splashing kids, their scales sparkling in the sunlight and their top fins waving behind them like streamers. Pairs of small yellow fish seemed to dance, by twirling together as they shot up from the bottom of the reef. Preparing for bed that night after our long day of snorkeling, I lifted my shirt, revealing a that was sunburn spotted across my back turning my ivory skin scarlet. Rushing to my parents, I found they were burned so intensely that the heat radiating from their backs rivaled the noonday sun. It became tradition every night following this for my parents to apply aloe vera gel delicately to each others backs, hoping to aid their recoveries. Even still they hobbled along, as though suffering from severe ailments for the better half of the week. After this, we decided rash guards were an extremely smart investment.


"Wow," I breathed, standing on the tip of Waimea Canyon, located on the western side of Kaua'i. As far as the eye can see the canyon gapes, pillars of earth protruding from the ground, throwing the burnt red and orange layers of rock into sharp relief. Hot winds reach me from below, bringing with them particles of red dirt and the smell of minerals. Greenery carpets elements of the canyon, contrasting with the earthy reds of the rock, a reminder that even in this desert, we are on a tropical island. Below me are hikers easily mistaken for ants, dwarfed by the immensity of the terrain.


Soft and cool, the white sands of Ke'e Beach slip under my feet as I walk into the water. Underneath, individual barnacles are visible from a ways' away, and the sand feels like a solid cloud streaming through my fingers. Many people pass me, one even bumps into me without acknowledgment. Confused, I follow their lead, giving them a wide birth after being knocked in the face by one of their flippers. Floating around the reef, a green sea turtle scours for food. A sudden hush falls among us, as though witnessing a celebrity. Grooves etched deep into its body, it looks ancient, like it grew from the lava rock itself. Free from the limitations of gravity, the turtle sweeps its fins up and down, flying through the water as if it were air. Eventually, the turtle leaves its awestruck crowd, soaring over the boundaries of the reef into the open ocean, disappearing into a world of blue.



"Na Pali coast, Na Pali coast…" My mom wets her finger and flips through the pages of our guidebook. "Here it is! It says years ago men would climb these treacherous cliffs carrying specially made spears. When dark fell they would light the spears and hurl them down toward the sea, leaving a fire trail behind; the light shows were immensely popular." There is a moment of silence as we absorb this. Waves crash over the rocks beneath our feet, making me shiver involuntarily from the chill of the ocean spray. The Na Pali Coast rises from the sea at an almost vertical angle, with edges sharp enough to cut skin. Outcroppings extend into the sea, each paler then the one before it until indistinguishable from the sky. Gazing up, I picture men, holding on for dear life as they climb up and up and up, nothing separating them from the perilous fall below. "That's crazy," Caitlin, my little sister pronounces, followed by a chorus of agreement. "Uh, are we going to go already?" Caitlin whines, pulling my parents along with her back to the beach. "Claire? Are you coming?" my Dad calls to me. "…I'll be right there" I pause, and look back one last time, saying a silent prayer for all the men who lost their lives climbing these majestic cliffs.


Three weeks before, on a dark Sunday evening, my Mom turned to me, commanding "Close your eyes," extending her hand for me to take. "Come on Mom, this is my sixteenth birthday not my sixth!" I retorted, nevertheless taking her hand and allowing her to lead me into the kitchen. "Okay… open them now!" she exclaims, and before me a banner stretches across the dining room announcing in bold marker, "For your sixteenth birthday we are going on a trip too… Hawai'i!" Excitement bubbled inside me like sparkling cider, and popped out in short yelps, "Hawai'i! I'm going to Hawai'i!" Warm thoughts filled my head that night; palm trees swaying, green mountains and soft sands. Finally I would smell the flowers, watch the waves and touch the land that I had danced about for six years.


"Where to next Mom?" I ask, peering over her shoulder at the guidebook. "From the end of Ke'e Beach, a trail cuts through the jungle to the Ka-ulu-Paoa Heiau (hula temple), which was the most important, prestigious school for hula in the islands for over 1,000 years," I recite from the text. "Mom, I have to go there." After a major false start, we finally discover the trail, concealed by untamed bushes. Pushing through the canopy of underbrush, we follow the tiny trail behind a small house. "Is this illegal?" I whisper, ducking under a window. "I hope not, just keep going," my Mom whispers back, glancing shiftily at the house. Having successfully made it past the house, we followed the trail to a plateau. Overgrown with dry grass and lined with primitive ruins stone walls, the heiau reeks of age. Stepping carefully through the weeds, I trace the rock formations with my fingers, feeling all fifty generations of hula dancers who came before me. I feel their arms stretch, hips roll, and their skirts swishing against their legs. Every drum beat reverberating through me, booming rhythmically, the heartbeat of hula.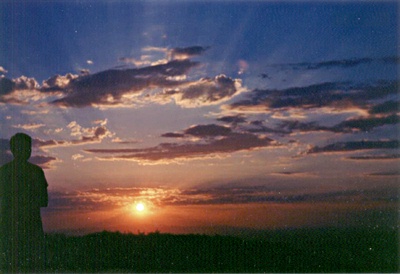 © Jovee B., Dededo, Guam