Yes, These are Demon Days
December 8, 2009
Some time ago, I departed on a family outing to some resort destination. California, Florida, somewhere I can't seem to remember. What I do remember, however, is this: I purchased an album that has shaped my views on the message behind music and what some songs really stand for. In a world where music is defined by autotune and bright synthesizers, it's difficult to see anything past generic emotions of love, lust, hate or any other basic feeling that is emitted by today's lyricists.

Before our departure, I had purchased the hit single "Feel Good Inc." by Gorillaz. I had heard it on the radio earlier, fascinated by the utter uniqueness of the track. It was a song that was layered with something new that I hadn't heard in any other band. I listened to the track thousands of time on the trip, up until I saw the album for sale at some unknown local music shop I ventured into.

I cautiously bought the album "Demon Days," portraying four tinted faces, each with their own personality drawn into their clothing, hair, eyes and overall demeanor. Up until now, I hadn't realized Gorillaz was the cartoon band that had hit the world upside the musical head with their single "Clint Eastwood." Despite this, I had no idea what to expect of "Demon Days." What I found was a beautiful progression into each track, each and every one a work of art. Every song was as diverse and unique as the next, telling a new story from a new mouth at a new perspective at some different point in time. I fell head over heels with "Demon Days" oblivious to the layers upon layers of, not music, but hidden depth of meaning and emotion jam-packed into these 54 minutes and 52 seconds.

Listening to "Demon Days" for the thousandth time, I sat in the waiting area of the portal to our ride home. Airports tend to be very bland in everything from color to employees to restaurants and so on. And so I sat in this very bland area, though immersed by the vibrant colors painted by the instruments of "Demon Days." I panned my surroundings to find something better to look at than the bleakness of this dreary place. My eyes turned to a bright flare above me, where on pole that stands in the middle of the room sits a television, broadcasting pessimism 24 hours a day.

On screen, a tank, somewhere in the Middle East, was on fire. Captions scrolled quickly to further the details of a gruesome death or something. What was this? This is how our world turns. Based on War.



O Green World, then Dirty Harry. Based on my Lost Innocence. Feel Good Inc., then El Manana.


I listened to "Demon Days." It was the exact same thing. It was a statement, not a single. It was the story of being alone in a world where we can't seem to think for our own actions and consequences. Where we are losing more and more optimism day by day. Losing a war, losing your mental freedom, losing emotion. "Demon Days" questions our decisions in a world where we constantly find less and less things to smile about. Though, by all this, we get something better, something free. We still have everything to gain. It says "Don't desensitize yourself to a life just because it's a struggle and can be painful, because if you avoid it, you'll lose more than you'll ever know."

I was stunned. I was left with my mouth agape at this bizarre, yet beautiful interpretation of our lonely world. I have shaped my views of life based around these policies of keeping a childlike innocence and optimism, despite everything terrible I find around the world today. I can open my eyes without being poisoned by what evil is out there and defend the position on which I stand when necessary.

"Demon Days" is a revolutionary message that, when speaking to me tells me not enough music is like this today. "Demon Days" is an editorial, an opinion, an outlook. Too many songs are only about simple pleasures, which are nice, but nothing compared to what messages Gorillaz broadcast. This statement of an album, "Demon Days" is a life-changing experience for me that has influenced me in a way that I would like to influence others with. It's simply beautiful.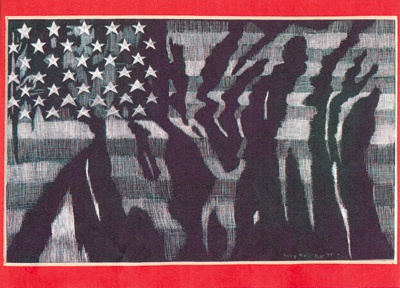 © Haley M., Ellinwood, KS