Slow And Steady Doesn't Always Win The Race
November 25, 2009
In life we wonder who the tortoises are, and who are the hares. The hare boasts about his speed and the tortoise overhears the hare and challenges him to a race. The hare very sure of himself laughs at the tortoises proposal and accepts. The hare was so far ahead of the tortoise that he said "I might as well take a nap, and then wake up in time to finish the race". When the hare had awakened from his slumber he continued on to finishing the race. When he got to the finish line he heard loud applause, but it wasn't for him, it was for the tortoise, because while the hare slept the tortoise took his time, didn't give up and won the race.

What a heartwarming message, don't you think? "Slow and steady wins the race." Sadly in my case it was the complete opposite, "Fast and quick had lunch and won the race." My 8th grade Spanish and Global history teachers both demanded that we go to museums. -- "El Museo Del Barrio" and for Spanish, and New York Historical Society for Global. Since we wanted to make the trip more exciting, my friends and I decided to go together, and I asked my brother to join us as well. It was the six of us -- Makeba, Bob, Savion, Brian my brother Pierre Richard and I. we met up at the train station.


"Look," I said "a police officer let's ask him"
"Don't assume that just 'cause he's an officer he knows directions" my brother said in



laughter.
"Yeah but look at him," I said "he's well dressed and what not, let's try asking him"
So we let my brother do the honors of asking the officer for directions, my brother was right the police officer didn't know what he was talking about. We ended up somewhere way off from our destination. We eventually got the right directions. The exhibit was beautiful, we saw portraits, sob stories and all. After we got all our notes we left.

It was time to go to the next museum and that's where the race started. Bob wanted to take one route and my brother wanted to take another. Makeba and I went with my brother and Bob, Brian and Savion went together. We were supposed to meet near the train station, but they never showed up.
Makeba called Bob and all you heard was, "Can you put relish on mine please? Yeah .Thank you."
I was shocked and appalled. "Hold up Bob," I said "how we standing out here waiting for you, and you eatin' food. That's not right."
"You don't have to wait for us, we taking the bus chick it's faster" said Bob.
"Okay no problem," I said "we're gonna take the train then"
Though we knew that the train might take longer, we still thought we were going to get there before them. I mean come on, they were eating, and that might slow them down even if the bus was faster, because remember "slow and steady wins the race" right? NOT!! They got there first and had lunch as a bonus.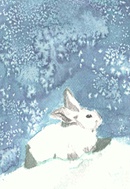 © Megan L., Desmoines, WA