Like Our Friendship, Like the Sun
November 25, 2009
Every day, every month, every year is only another reason to look forward to the summer. I am still good friends with the people and inseparable best friends with one of the girls that changed my life from a snails slime to a the wings of a bird. The summer - hot and torturous weather - isn't just to take a break from your studies and vacation, but it is to grow, have fun, and explore the beauty nature has presented to the world under our sun. Exploring: the time my friends and I decided to travel so far down the shore by my house we discovered a whale of rocks that we have never even knew of. Or even the times we thought we were professional photographers and took pictures of our crummy feet in a circle on the shattered glass atop the burning sand. 'Till this day, every summer we still go to the rocks which we named "the beyond". Also, I am now in the Art program at school and took a professional photography course which reminds me of the times my friends and I used to have.. From experience and comfort, friendship is the best direction to learn and grow.

The ironic aspect of our friendship was that we were all so different and by some means got along so well. Lisa-my best friend with very irritating curly hair-always thinks outside the box and I have shared many ridiculously perfect moments with her. From going to the beach every morning to talking on the phone restlessly. Above all, my little sister introduced me to her. Then separately from meeting her, I met this other girl named Danielle. It turned out that Lisa has known Danielle for over eight years and I met them both separately. Once we discovered that we were all friends, the three of us began to hang out. Then Danielle was friends with this guy named Steven - which is also the guy she was very attracted to - he was tall, dark and handsome. I met him separately from them as well. Anon, me and Danielle introduced Steven to Lisa. We all met through a connection. I believe the connection was our friendship and how we attracted each other.

Every morning we would go to the beach since its across the street from my house. Every day we would laugh and learn from each other under the heat and Air conditioner. But since we are all so different in interests, personality and goals, we argued. Arguing about very childish and ridiculous reasons. As normal friendships, there is always a downfall. Especially when Danielle would be jealous if Steven talked to me or Lisa and she would become very mad with us. This made Steven drift away from her and become closer with Lisa and me.

One day at the park - where we spent our precious moments - which so happens to be only two blocks away from my house, Lisa was showing us her completely vertical handstand. I was so impressed that I felt my blood rush for me to attempt to do one just like she did. Steven offered to hold my legs while I do a handstand. I was doing it so well for a split second. Until he let go. Once my body forcefully hit the dirty asphalt , I knew I wouldn't be able to get on my feet again. I didn't make a sound as all of the kids at the park circled around me as if I was a piece in a museum.

"Sprite?" Lisa said to me while kneeling over me in the second of silence after I fell. I saw everyone had a worried face and Lisa was just trying to make me feel better.

I grabbed the Sprite from her hand and agreed with a smile being forced on my face, "uh huh."
That night I went to the hospital and discovered I had a sprained ankle. Steven carried me to the car and all around where I needed to go. Meanwhile, Danielle who was overly-obsessed with Steven, was jealous because Steven was carrying me. But he was only carrying me because I couldn't walk at all. Lisa was trying to keep Danielle calm and she tried explaining to her that I couldn't walk at all and if it wasn't for Steven I would've probably never gotten to the hospital so quickly.

This incident was one way we learned from experiences. Danielle learned to trust a little more of the people she is close with and not hold grudges. Lisa learned how to talk someone out of something and get into their mind-which she still does now since she wants to become a psychologist. Steven learned to be more aware of what's going on around him. And I learned that too much trust wont break your fall.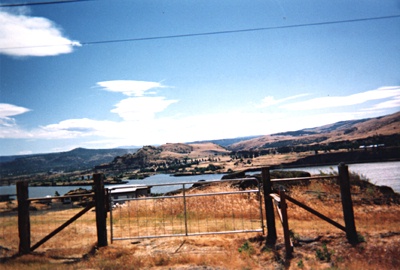 © Christine G., Port Hadlock, WA