The Silent Killer
November 16, 2009
Billy Joel once sang "Only the good die young."After this do I now know that it is the truth. October 13th 2008, the day that Jay, my uncle, passed away. Jay was my aunt's husband, and together they had two kids. Their son, Austin, was 11 years old and their daughter, Shelby, was 7 years old when the death of their father occurred. Jay worked for Super Mom's as a delivery man from 4:00P.M. to sometimes 3:00A.M. and Peggy (my aunt) worked days. Everyday Jay would give the kids a ride to school in the morning and a ride home in the afternoon; even though they lived only 2 blocks away from the school he wanted as much time with the kids as possible. The entire family knew that one night Jay might not return because he had heart problems. He had a heart attack shortly before Austin's birth, and since then he had been watched and monitored but you can only do a certain amount in such cases.
It was Monday morning when everything was going on as it usually did. The kids were getting ready to leave for school at 7:45A.M., because their elementary school started at 8:05A.M. Jay dropped his kids off, and when he returned home he began having chest pains. From his previous heart attack, he recognized these pains. Therefore he called Peggy, she suggested, "Why don't you take your medicine, have your brother Steve come over for the day, and take a nap." The day went on and Peggy hadn't heard a word from Jay, and she was in meetings on this particular day, consequently she couldn't call him periodically throughout the day to see if he was feeling better.
Now it was 2:55P.M., Shelby and Austin where talking amongst themselves, "Where is dad? School got out 10 minutes ago, should we walk home?" In Austin's mind all that sat was worry and confusion, however he did not want to scare his younger sister, because of this Austin was forced to hide his pounding heart and racing mind from her. Austin knew it was rare that their dad would not be there on time without calling the school to let them know; Austin only wanted to be home and see what was happening. As they were walking home through the baseball field their faces turned red from the cold, rainy October afternoon, and the wind blew their hoods down only to reveal Austin and Shelby's young ears into the cool air.
My two young cousins arrived home; Jay's truck was in the driveway. Maybe dad is taking a nap and didn't set an alarm is the only thought the kids could even bring into their minds at the time. However that changed after they had typed their code into the keypad of their garage and as the garage door slowly opened it revealed Jay, their father lying on the cold cement garage floor. Jay was a plum purple from suffocation. Austin and Shelby's mouth dropped, and their tears began to form another river, but they weren't alone crying very long because they called their mom, and she called the cops, Grandma to go over to the house and the rest of the family to inform us. While this tragic event was happening, I was having a wonderful time with my friends and enjoying myself winning a volleyball game in Hastings. I did not know that one of my most memorable uncles had passed away because of a heart attack.
As our 8th grade team was getting onto the bus, I went to grab my cell phone as I usually do to call my mom to pick me up at Oltman Junior High but when I looked at my phone I saw that she had called me many times, left me voicemail, and text messaged me. I was listening to one of the voice messages and it wasn't understandable, I was puzzled. I looked at my text message she left me and the only thing I read was, "Jay is dead. The kids found him." I immediately tried calling every number my mom had, her cell phone, the home phone, even her work phone, but there was no answer anywhere. I kept reading it over and over again, the more I read it the more I cried. The tears were falling from my eyes like a brand new storm inside the bus, I tried to hide them from my friends but the tears were too strong to hold back. Right away my friends started to ask me what was wrong, but the only thing I could do was show them the dreaded thing that was on my cell phone screen. My cell phone was passed around the bus, because nobody wanted to say what was on the screen in fear that I would hear it and break down more than I already was.
When we arrived at Oltman Junior High I already had everything I needed to go home. I just sat crying on the chilled walking path by myself, trying to think of how Austin and Shelby could possibly dealing with the terrifying sight of their father dead on the ground. Things that went through my head were, "They are too young; they should not have to deal with this tragedy. What should I say to them when I get to KOK funeral home, what can I do for them?" When my mom got to the school I was relieved, because now I was going to be with my family. My mom drove us to my grandparents to pick up my grandpa and my Uncle Bryan, then we went to the KOK funeral home to see the family and deceased Jay before we was cremated.
We got to KOK funeral home in Cottage Grove around 6:00P.M., most of Jay's side of the family was already there. As I went up to the bed where Jay lay under his bed comforter, more tears came. Jay looked like he was just lying there taking a nap for the mortician had done a great job of making sure there wasn't that much purple left on him except for his lips. I was scared to touch him because it looked as if he would pop up and scare me that is how alive he looked. It was one of the scariest and important sights I had ever seen. The kids were sitting crying with their mother and that is when I realized that with Jay's death came responsibility for me. Austin and Shelby look up to me and I would do anything for them.

At the beginning of the day I was happy, joyful, excited, loving the day, and not yet realizing the responsibility the death of a great uncle would bring. This once in a lifetime experience showed me how valuable life is and how the quote/song, "Only the good die young" is truly the truth. Before October 13th, 2008 I would have never realized how much the kids needed their father, even though they didn't get to see him much besides in the summer. Austin and Shelby have now stopped doing many things that they used to do with their father such as watching and playing wrestling, four wheeling at their cabin, and they stopped going to their favorite Burger King in Woodbury because that is where Jay always took them. I have learned that I am very important to the kids and I now see them whenever I can, this is everything I have learned from the death of my uncle Jay on October 13th, 2008.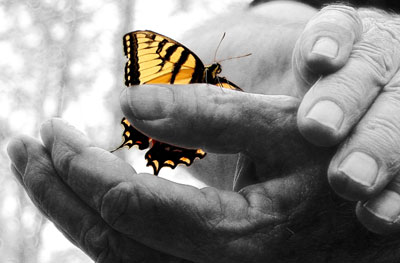 © Katie K., Macon, GA